Happy to be in hot water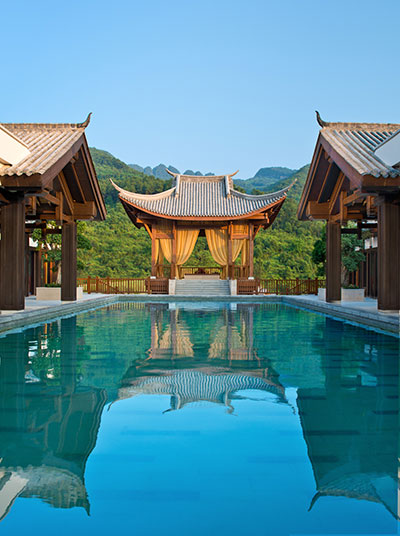 Nestled in the foothills of Jinyun Mountain Natural Reserve, Banyan Tree Chongqing Beibei surrounds you in an ambience of spirituality, tranquillity and cultural charm.[Photo provided to China Daily]
If you want to soak away the winter blues, there is one place where you can do it in style. Tan Yingzi reports from Chongqing
Soaking yourself in warm water is a wonderful thing to do when you've had enough of the freezing winter weather.
If you crave a natural cure for the winter blues, there is a hidden gem in inland China that offers a high quality and unique hot spring experience.
It is said that as early as 1,600 years ago people were using the hot springs in the north of Chongqing, a mountain fringed city by the Yangtze River in Southwest China.
The city boasts one of the oldest hot springs in the world, which is more than 200 years older than Japan's famous Arima Onsen hot spring, built by monks in the 8th century.
In 423, the Hot Spring Temple was established at the foot of Jinyun Mountain and it has seen many changes over the centuries. In July, 1259, the Mongol Khan, who led the army to attack a city nearby, died in the temple after being hit by cannon fire from inside the city walls. Learning of his death, his brother Kublai returned north to secure his power base, giving the Southern Song Dynasty (1127 - 1279) a respite from continuous war.