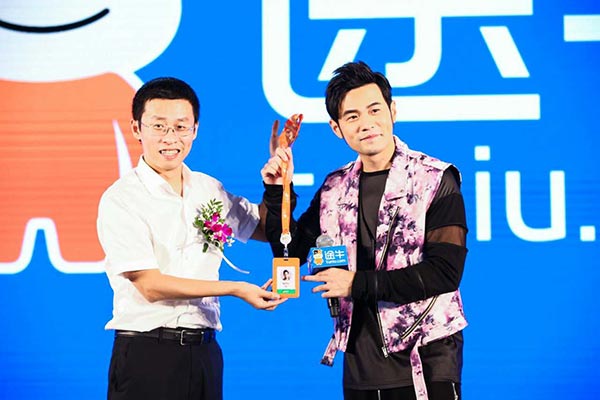 Singer-songwriter Jay Chou (right), the ambassador for Tuniu. [Photo provided to China Daily]
Chinese online travel agency Tuniu has entered the air travel and hotel booking business to help its customers enjoy hassle-free trips.
Speaking of its decision, Chen Shihong, the vice-president of Tuniu, said that though traveling by air was the top choice for consumers, there were still some problems in the sector that needed to be ironed out to ensure better service for customers.
As part of its foray into the air travel business, Tuniu has signed a Memorandum of Understanding with airlines which include Southern Airlines, Capital Airlines, Emirates and Korean Air.
As a result of the agreement, Tuniu says that its customers will now be updated about flight changes in a timely fashion and a backup plan will be offered to them when a flight is delayed.
Online personnel will also be on hand to resolve issues.
Meanwhile, a three-year plan to offer virtual reality videos of 4,000 hotels in China and abroad to customers was also unveiled at a news conference where the Tuniu announcements were made.
With the videos, customers will be able see the hotels before making reservations.
Separately, Tuniu has also signed deals for this year with hotel suppliers including Expedia, Gullivers, DOTW and JTB.
With its latest hotel supplier agreements, Tuniu now has access to hotels in 201 destinations around the world.
Related:
Caravanning: Chinese tourists hit the road
Whistling Dune Bay: Landmark for tourism industry of Inner Mongolia