Theme park performances to go virtual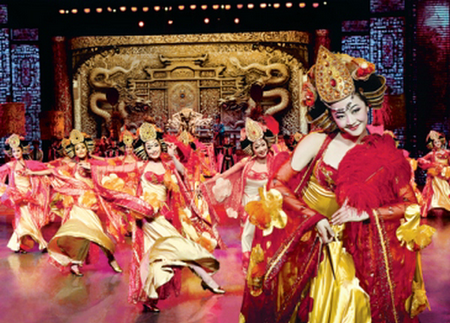 The Romantic Show of Songcheng, featuring Song Dynasty (960-1279) imperial dances at Songcheng's theme park in Hangzhou, Zhejiang province. [Photo provided to China Daily]
The realities of China's theme parks may soon undergo a virtual transformation-in every sense.
Indeed, virtual reality's proliferation means Chinese can instantly experience not only any place in the world but also places that exist only in one's imagination.
China's Songcheng Performance Development Co, Ltd and US-based Spaces Inc announced recently they'll launch a joint venture in Zhejiang province's capital, Hangzhou, to add VR and mixed-reality to Songcheng's existing and new attractions, plus its live-broadcast website, 6Rooms. Songcheng will invest 160 million yuan ($24 million) in the new company.
The company is keeping tight-lipped about exactly what VR and MxR experiences visitors can expect.
"VR and MxR generate great potential for China's theme parks," Songcheng Group's president, Huang Qiaoling, said at the group's 20th anniversary in Hangzhou.
"It'll create unique experiences."
Songcheng's parks' appeal is currently based mostly on performances but also includes buildings constructed according to local styles and rides.
Spaces' CEO Shiraz Akmal says: "Thousands of people will be able to simultaneously experience VR in the theme parks."
One way US parks are dipping their toes into VR is by including virtual experiences to bring new thrills to rollercoaster rides, Akmal says.
Riders wear VR headsets while actually rocketing up, down and upside down.
That's because they can feel the physical sensations of actual locomotion while virtually battling extraterrestrial hordes in space or serving as soaring Superman's sidekick as the hero destroys robots.
The initial reaction has been enthusiastic, Akmal says.
"China is a huge market with a great appreciation for new technology and a desire for experiences they can't have anywhere else," he says.
Over 22 million guests attended 6,500 shows staged for Songcheng's Romantic series-based on host cities' culture and legends-last year. Over 300 performers and workers put on the typically hourlong shows.
"Each show tries to display the city's roots and passes on traditional Chinese virtues, such as benevolence and commitment," says Songcheng Art Troupe's executive deputy director, Zhang Kai.
"For example, ancient soldiers underwent untold hardships. They wanted to return home after wars."
Beijinger Jiang Fei was dazzled by the Romantic performance he saw in Yunnan province's Lijiang.
"Great stage effects like those depicting floods immersed us in touching stories," the 28-year-old says.
"Actors abruptly fly through the air across the theater."
Zhang believes VR and MxR will make the group's live entertainment more popular.
The company aspires to take the model overseas.
It hopes to produce a Romantic show in the United States to present the country's culture.
"First and foremost, we need to know about US culture and history. Then we can decide which historical moments should be performed onstage. Performers from home and abroad will be involved in the show, but we haven't yet decided in which US city we'll stage it," Zhang says.
"All types of performances are possible, including acrobatics and magic. We're still working on the final script. We've written several versions but aren't satisfied."
The company plans to produce Romantic shows in-and for-such countries as South Korea, Cambodia and Australia.
Songcheng also plans to expand upon its core competence in China, staging Romantic shows that speak to the soul of China's cultural tapestry, he says.
It's currently working to bring Romantic shows to Shanghai, the Guangxi Zhuang autonomous region's Guilin and Hunan province's Zhangjiajie.
"Chinese people know best our history and culture," he says.
"Our performances appeal to highbrow and lowbrow audiences."
He points out that China has millennia of legends and mythical figures to draw themes from.
"Good sound and lighting with high-tech add-ons like holographs are direct and sensory. It appeals to ordinary Chinese, who like stories that are easy to understand."
While VR may seem unexpected in this model, perhaps it's only surprising in how early it's coming.
"VR is being tested in just about every industry, including theme parks," says Akmal, who worked on DreamWorks' early VR.
"It has the potential to transform almost every aspect of our daily lives."
Contact the writer at xulin@chinadaily.com.cn