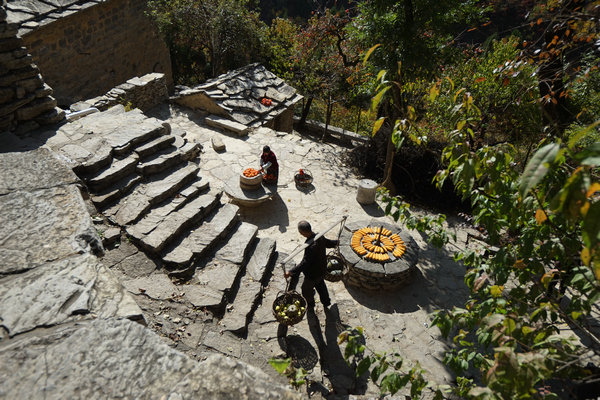 Villagers of Yuejiazhai, descendants of Southern Song Dynasty hero Yue Fei, have lived reclusive lives for hundreds of years on the Thaihang mountain ridge in Pingshun, Shanxi province.[Photo by Sun Ruisheng/ China Daily]
In order to avoid persecution, the kin of a Song Dynasty general took refuge on a mountain. But now, the village can be enjoyed by visitors. Li Yang and Sun Ruisheng report in Pingshun, Shanxi province.
Thirty-three families from Yuejiazhai, a village of the Yue family on the Thaihang mountain ridge in Pingshun, North China's Shanxi province, have lived in relative seclusion for hundreds of years. Yue Xianlai, the Party chief of the village, says: "We are the descendants of Yue Fei's third son Yue Lin. I am a 35th-generation descendant of Yue Lin."
Yue Fei was a military general who led the Southern Song Dynasty (1127-1279) forces against the Jurchen-ruled Jin Dynasty (1115-1234) from northeastern China.
He was put to death, along with his eldest son Yue Yun, in Hangzhou, East China's Zhejiang province, in 1142 by the Southern Song ruler after being accused of being a rebellion plotter.
However, 27 years later, he received a posthumous rehabilitation and was portrayed as a national hero for his loyalty.
But Yue Fei's death was turning point for his wife and other four sons.
And fearing further persecution, they fled.
The villagers say Yue Lin took 33 families with him, mostly relatives, servants and guards.
One night during their journey they camped under a big tree in a remote mountainous region.
Yue Lin had a dream that night, in which the tree told him to settle under it and it promised to protect his people.
The next morning, he decided to follow the instruction and the group began to build houses there using locally available stone.