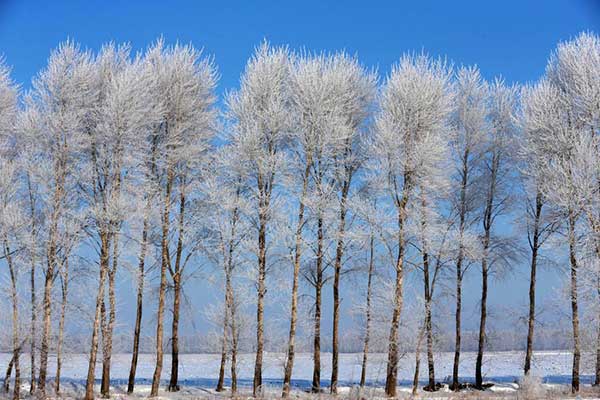 Photo taken on Feb 10, 2016 shows the rime scenery at Daxing farm in Jiansanjiang, northeast China's Heilongjiang province.[Photo/Xinhua]
Northeast China's Heilongjiang saw business boom during its globally-renowned winter festival during the Chinese Lunar New Year holiday, despite challenges from unexpectedly warm weather.
As a centerpiece of the annual Harbin International Ice and Snow Festival that opened on Jan 5, the "Ice and Snow World 2016" theme park received 169,000 visitors during the holiday from Feb. 7 to 13, up nearly 17 percent year on year, according to statistics from the organizer.
The park, China's largest ice park, was even bigger this year, covering more than 800,000 square meters and using a record 330,000 cubic meters of ice and snow.
The 28th Sun Island Snow Expo, which features the world's highest and largest snow sculpture, the 51-meter-high "Crown of Ice and Snow," also saw more than 130,000 visitors during the holiday, up nearly 16 percent year on year.
The tourists remained awed despite the abnormally warm weather in Harbin, the provincial capital, which damaged ice and snow creations. Harbin has a yearly average temperature of 2 to 3 degrees Celsius.
Temperatures as high as 5 degrees Celsius forced "Ice and Snow World 2016" to be closed for one day on Feb 12.
The height of the "Crown of Ice and Snow" has been reduced by 5 meters and many of its details have been ruined, said Xie Hengcai, a designer with the snow expo.