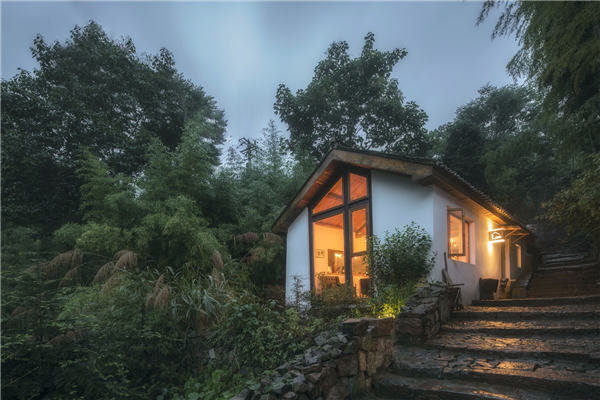 Lost Villa Cafe in Moganshan, a part of Lost Villa hostel that has been renovated from the homes of local farmers. Xu Xiaomin/China Daily
Zhejiang province's Moganshan is a Chinese destination made famous by foreigners - but its natural offerings, rather than manmade facilities, conjures the potion that makes the place simply surreal.
It first came into prominence as a holiday destination when British businessman Hayley Bell built the first villa around 1896.
After experiencing a lull in visitors for decades, Moganshan made its way back into the spotlight a few years ago when several foreigners introduced luxury accommodations to the landscape.
South African Grant Horsfield was one of the first to do so, having opened up the upscale Naked Stables Private Reserve in 2011. He was quickly followed by Frenchman Christophe Peres, who started Le Passage Mohkan Shan in 2012.
Many of the rustic farmhouses in the area were transformed into beautiful villas, blending old-world charm with contemporary architecture and amenities.
The concept was a hit. And still is.
Many youth view the area as a trendy haven that offers the perfect mix of natural beauty and modern luxury.
But to me, all these facilities are merely "attachments" to the mountains that make traveling on them more convenient.
The real charm lies in the mountains themselves - the bamboo oceans, singing streams and foggy mornings that have lured me back time and again over the years.
I can walk, run or cycle freely amid lush greenery and away from so-called scenic spots that are almost always crowded with tourists taking photos of a certain pavilion or ancient tree.
Upon arriving in Deqing county, where Moganshan is located, I find that the world around me grows quieter on the way up to the northern part of the mountains. Crowds and vehicles gradually disappear from sight, and I soon find myself surrounded by green lands and blue skies uninterrupted by skyscrapers.