Great Wall offers perfect backdrop for apricot blossom festival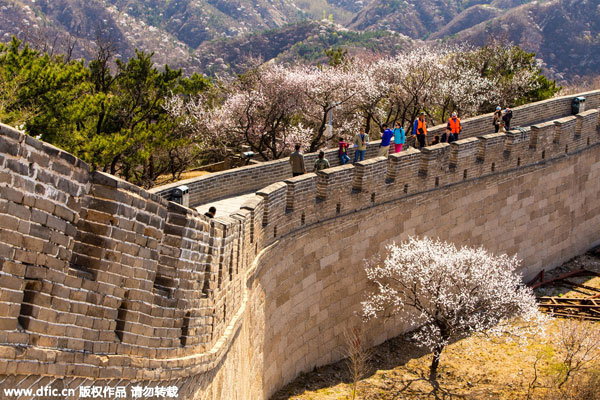 Visitors walk along the Great Wall at Badaling during last year's apricot blossom festival. [Photo/IC]
Early April is the best time to see apricot flowers in bloom and the top place to view them in Beijing is the Badaling Great Wall. An apricot blossom festival is held annually and this year's 16-day event begins on Saturday, offering discounts on admission tickets and additional services to better enjoy the season.
Badaling, the most visited section of the Great Wall of China, is built on the mountain ridges in suburban Yanqing county. Its complicated climate and geographic situation makes the blooming period of flowers different in various sections.
The site hosts around 100 mu (66,670 square meters) of apricot trees, stretching as far as 2,000 meters. During each season, apricot blossoms shed their petals to dress the Great Wall in pink.
This year's festival includes biking riding, hiking and many other family-friendly activities for visitors to get more involved. On April 11 a three-hour hike will be accompanied by professionals and requires booking in advance (call 010 – 6912-0990).
During the festival, which lasts until April 19, visitors can present their ID card for a 50 percent discount, except on weekends and public holidays.