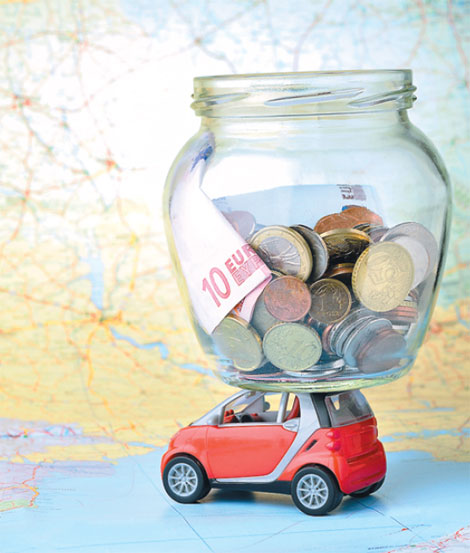 Interested in 37 newfangled apps that will save you 0.01 percent on travel for the coming year? I didn't think so. At some point, you have to stop trying to find every new tool for and shortcut to bargains as they appear and just wait to see which ones stick.
So instead of offering wacky tricks, here are six ways to take strategies you already know and do them better - with, OK, a few new appealing tools thrown in.
Get paid to park
Take a baby step into the sharing economy by renting out your car while you're away and get free airport parking to boot. Or rent someone else's car for less than most traditional companies and forget about monitoring the ebb and flow of daily rates as your trip approaches. FlightCar.com is now operating in Boston, San Francisco, Philadelphia, Washington and Los Angeles, among other cities in the United States.
Airbnb? Negotiate
Nothing on Airbnb says you can negotiate a better price when you book rooms or apartments or houses or yurts, but nothing says you can't, either. Write the host a note that goes something like this: "Your place looks great but it's a bit outside my price range. Would you consider $60 a night?" (It's not as likely to work if the property is managed by a third party rather than directly by the owner.)
On top of currencies
How cheap a country is can change from year to year, especially as its currency changes. Here are some countries where you would get at least 13 percent more cash for your US dollars if you arrived there right now: Argentina (31 percent), Chile (16 percent), Mongolia (15 percent), Israel (13 percent) and - yes - Sweden (16 percent) and Norway (21 percent). It was also a bad year for the euro, which means right now is a good time to go to Europe.
Package it
You spend a lot of time searching online travel agencies, but have you ever clicked the "Packages" tab? It's not a match for every trip, but I found out this year that booking a hotel and flight together is the single fastest way to save. But it's important to compare the price to the best deal you can find elsewhere.
Head to Queens
Probably the most common question I get as a travel writer is where to sleep cheaply in New York. I used to hem and haw and mumble something about Priceline bidding, but now I have a new answer: Stay in Long Island City, Queens, just across the East River. When I checked what a week's stay would cost in March at hotels one or two subway stops from Midtown, I was shocked to find that 18 of 20 hotels were $151 a night or less.
Free activities
If you're like me, you still like guidebooks, but have to admit it's tempting just to search online for what to do wherever you're headed. I've learned that every city of any size or cultural importance has at least a half-dozen great activities that cost nothing, not to mention free museum days and the like. So search "London free" (without the quotation marks) and choose from the bounty that follows.
The New York Times