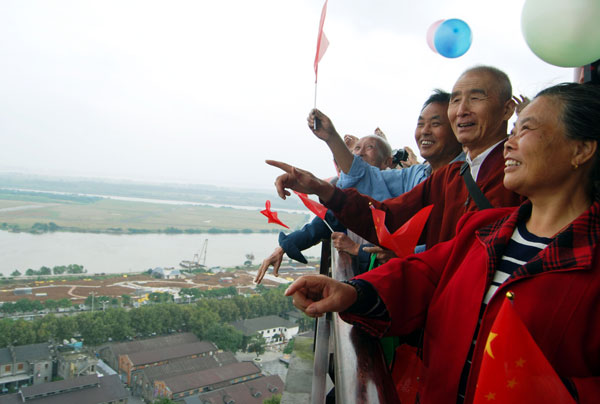 Senior citizens in China love to go on a trip with companions. [Photo by Shi Yucheng / China Daily]
Domestic and overseas travel have seen a sharp boost in the past decade, as groups of freshly retired Chinese senior citizens with abundant time and financial support enter the country's tourism market.
According to the China National Committee on Aging, as the country has gradually grown older, it is expected that by the end of 2013 the number of older Chinese individuals will reach 202 million, with the population estimated to hit 248 million by 2020.
Among this expanding and sizable social group, men, 60 to 75 years old, and women, 55 to 75, whose health condition would allow both short and relatively long-term travel, are potential targets of travel agencies who eye this emerging and fast-growing market.
Statistics show that as much as 40 percent of the senior Chinese are willing and able of going on a tour, at home and abroad, and they are willing to set aside 15 percent of their annual income to trips, according to Mafengwo.com, the country's largest tourist information-sharing website.
The total income of senior people in China is around 300 to 400 billion yuan ($48 to 64 billion), including their pension, employment and those from relatives and heirs.
Sixty-two percent of the senior citizens choose to go with a company while going on a trip, and when compared to 2013, this year has seen the number of senior tourists increase by 58 percent. As transportation and information further become more convenient, it is believed the number of senior people willing to travel, short or long-distance, will further increase, said Chen Gang, CEO of Mafengwo.
Along with the "red tour" that covers major historically significant sites during the Long March and leisure routes in Bama county of Guangxi Zhuang autonomous region, Gulangyu Island of Fujian province, Sanya, Hainan province and Dali, Yunnan province, which are traditionally favored by senior Chinese, customized travel products have become the new hit in the country's travel market.