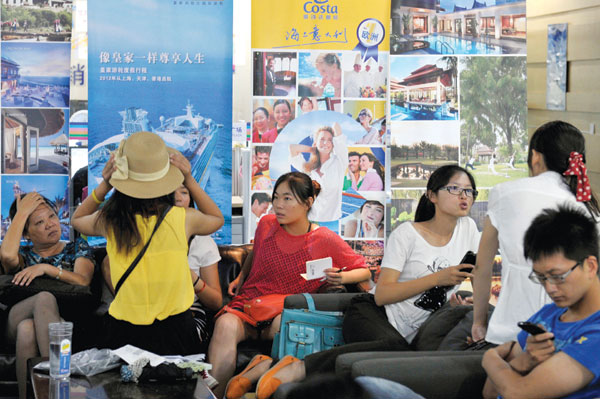 A travel agency in Nanjing, Jiangsu province. In 2013, 98.19 million Chinese tourists traveled abroad, an 18 percent increase from the previous year. Photo Provided to China Daily
According to a report released at the 2014 World Tourism City Federation (WTCF)
Beijing
Fragrant Hills Tourism Summit, China's outbound tourists are the main driver for the development of the tourist industry in targeted countries. International interest is growing in the outbound tourism market in China, and Chinese tourists are becoming more focused on quality.
The report, jointly produced by WTCF and Ipsos, a market research organization, underlined the factors that affect Chinese tourists' decisions and consumer behaviors, and the factors that affect quality of tourism.
The trend of outbound tourism in China
According to the WTCF report, China outbound travelers spent a total amount of USD 128.7 billion during their trips overseas in 2013, an increase of 26.8 per cent year on year. They tend to spend their money on luxury products during oversea trips. In addition to Hong Kong and Macau (26 per cent), Europe (23 per cent) and US (10 per cent) have become important shopping destinations for Chinese travelers. Lower prices are one of the main incentives for Chinese to shop abroad.
Three factors are or particular significance in the trend towards outbound tourism: Services are becoming more digital, ways of travel are beoming more diverse, and it is becoming much easier for Chinese tourists to travel abroad.
As a result, Chinese tourists made 98.19 million trips in 2013, an increase of 18 per cent year on year.
China's post-80s generation plays a leading role in outbound tourism, accounting for 56.2 per cent, followed by the post-70s (26.4 per cent) and the post-90s (11.3 per cent).