Rare bloom a special gift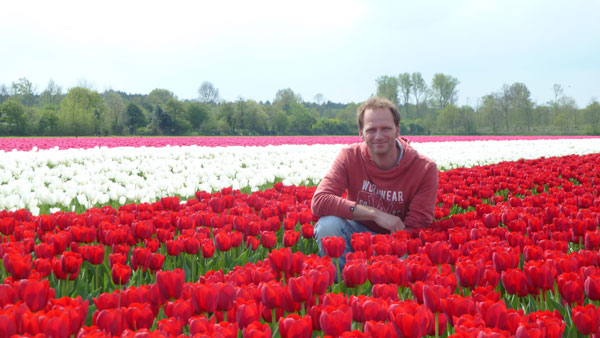 Jan-Karel Apeldoorn says he hopes to present the beauty of tulips to more Chinese people. Photo provided to China Daily
When Jan-Karel Apeldoorn and his colleague found a new strain of tulip 10 years ago, the 35-year-old florist from the Netherlands said he never thought the flower would be presented as a national gift to Chinese President Xi Jinping and his wife Peng Liyuan during their visit in March.
With its special serrated edge, the purple tulip was named "Cathay" by the Dutch Queen Maxima and christened by Peng, who gave the flower a Chinese name "Guo Tai", which means prosperous country.
"I was there at the christening ceremony. It was a great honor seeing the Chinese president and his wife," Apeldoorn says. "Since this was their first trip to the Netherlands, it was also an honor for our country."
There was only one Cathay when it was first spotted among regular tulips, says Apeldoorn. "It was completely different and so beautiful, so we decided to keep it," he says.
The only bulb was carefully transplanted in a special field and harvested by hand, according to Apeldoorn. Usually it takes about five years to have a new strain by crossing different varieties but Cathay came naturally.
"The biggest challenge of growing Cathay is finding it in the first place," he says. "We are lucky it grew in our field but it wasn't pure luck. You have to have a good and professional eye to keep it and spend 10 years to cultivate it. Otherwise, you might throw it away."
Apeldoorn says tulips are a national symbol of the Netherlands and it has been a tradition to give tulips as a gift at international occasions.
"Cathay was picked because of its special shape and color," he says. "Our king and queen wanted to give a special gift rather than a regular tulip."