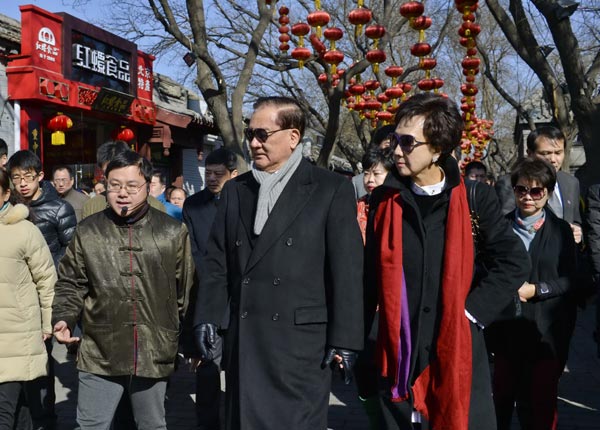 Kuomintang Honorary Chairman Lien Chan (right from 2nd) visits Nanluogu Xiang, a famous hutong or alley in Beijing, with his wife Lien Fang-yu on Feb 27, 2014. Two days earlier, General Secretary of the CPC Central Committee Xi Jinping also visited the same alley.[Photo/Asianewsphoto]
South Gong and Drum Lane (Nanluoguxiang) is a centuries-old community renowned for its rich history, beautiful hutong culture, specialty stores and distinctive cuisines.
The lane and its 16 hutong date back more than 800 years and saw the building of the then-capital of the Yuan Dynasty (1271-1368) in Beijing. Although swept by historical tides, it sat still, witnessing the rise and fall of dynasties.
History can indeed be felt walking around the hutong, which are home to the most authentic and intact courtyards in the capital.
The red lanterns hanging under the eaves allude to the area's prosperous past, when many royal families and high officials chose to live there. The former residence of China's last empress, Wan-jung (1906-46), is in Mao'er Hutong; Chiang Kai-shek (1887-1975) lived in Houyuanensi Hutong; and the famous artist Qi Baishi (1864-1957), lived in Yu'er Hutong for some time.
Although a historic place, the lane looks nothing like a museum. While preserving its history, it diversifies its cultural and commercial environments. You can have coffee while looking over the crafts offered at the Le Tian pottery store.
Many are drawn to the lane for the art. Generations of top Chinese performers, such as actors Jiang Wen, Zhang Ziyi and Gong Li, were educated at the community's Central Academy of Drama.
The hutong are lined with a variety of eateries and snack bars, including Wenyu yogurt shop, popular for its many different types of yogurt. And Western restaurant Yu Shi Ju Jin offers an international fare of Russian, Italian and Indian styles.
There're also many bars, including Plastered 8 and Guo Ke, meaning "passer-by".