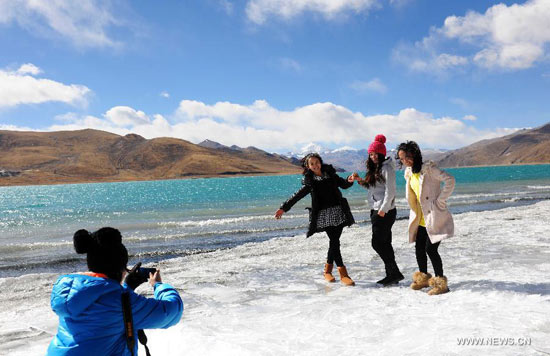 Tourists pose for photos by the side of Yamzho Yumco Lake in Shannan prefecture, Southwest China's Tibet autonomous region, Jan 19, 2014.[Photo/Xinhua]
During the Spring Festival this year, the overall environment for tourism industry will be favorable. The number of tourist is expected to reach 225 million, 11 percent up year on year, and income from tourism industry will increase 11 percent to exceed 13 billion yuan, according to the forecast by China Tourism Academy on January 18, 2014.
According to some domestic travel agencies, bookings of foreign and domestic travel routes have shown a markedly increase in recent days, and the related "customized travel plans" are selling well. The trend of demand exceeding the supply has emerged in tourism market.
In recent years, tourists' needs for personalized and in-depth travel plans have become more noticeable, and the tourism market is becoming more upscale, focusing on small niches. Some travel agencies have provided various travel packages such as in-depth travel plan, private tour, and specialized route to travelers. Some upscale and customized tours which were usually booked by organizations now start to get popular among the public.
The so-called "private tour" means the tour plans ordered by a family or a small group, where even two people can form a group. Tourists are able to customize their own trip plan, and they will also enjoy exclusive service such as special car and a guide throughout the trip. Tourists can start the trip anytime once they make the booking.
For consumers, "private tour" breaks through the conventional behavior of travel products for large groups, gaining popularity among families. The main consumers of this type of travel product are families of three people.