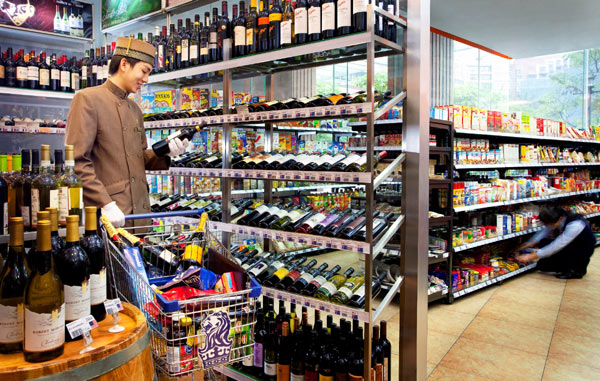 Ritz-Carlton group has opened its first mainland residences in Guangzhou. Photo provided to China Daily
With more than 90,000 participants attending the first phase of the Canton fair, the Ritz-Carlton, Guangzhou is going all out to tout its expertise in hosting meetings and conventions to a global audience.
Have successfully completed a large number of product launches in the past, with companies such as Porsche and Audi, the Ritz-Carlton, Guangzhou is gearing up for the fair's autumn session.
The Canton Fair, or the China Import and Export Fair, is easily one of the largest, most important trade fairs in China. This year, 24,517 companies worldwide have confirmed participation.
The Ritz-Carlton, Guangzhou has already made several Canton Fair packages available for participants traveling to the fair. The hotel not only provides complimentary shuttle services to and from the fair center, but also has a state-of-the-art business center on 24-hour standby, with translation and technology rental available.
To make all participants feel at home, the hotel also partnered up with the Kehilat Zion Synagogue to offer exclusive kosher meals and other services for the Jewish community.
It comes as no surprise to convention visitors that Guangzhou is the fast-growing economic hub of Guangdong, yet many are still impressed by just how central the hotel is, surrounded by new MICE-related (Meetings, incentives, conferences, and exhibitions) convention centers, facilities and venues.
The Canton fair aside, the hotel is certainly not shy about going after large numbers.
"Guangzhou is the definitive MICE destination," says Andrew C. Rogers, general manager of the Ritz-Carlton, Guangzhou.
Back in 2008, as the fourth hotel opened by the group on the mainland, the Ritz-Carlton group had already seen the city's potential to be MICE-friendly.
To show its commitment, the group opened the very first Ritz-Carlton Residences on the Chinese mainland in Guangzhou.
Located on the 6th to 19th floor of the Ritz-Carlton hotel, Guangzhou, the residences are designed by Hirsch Bedner and Association, the 'Number One Hospitality Interior Design Firm' honored by the Gold Key Awards in 2012.
Residents can choose from one up to four bedrooms apartment, and either way they will enjoy the most spacious top-drawer service apartments in Guangzhou.
If all the luxury furniture and guestroom technology in each apartment seem businesslike, the imported 400 thread-count bed sheet with exquisitely smooth cotton may just give it a softer edge.
For residents who travel to Guangzhou en masse for business, they will receive substantial discounts and perks in the hotel's six signature restaurants, bars, lounge and the spa.
A 24-hour personal concierge service makes life even easier.