Service basics are still what matters most
Profile | Paul Cunningham
"When I first came, this was an industry where if you asked for something extra you were more than likely to get 'mei you' as a reply," says the general manager of St. Regis Tianjin. Paul Cunningham, a British hotelier with more than 11 years of experience in China's luxury hotel sector, was remembering the days when he first came to China in 2001.
Since then, many other hospitality brands have also been quick to respond to this market opportunity.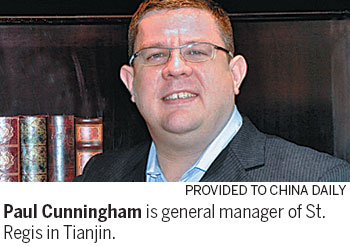 "It was the right time for us to enter the Tianjin market two years ago, in step with its rapid economic growth."
From some points of view, Tianjin is regarded as more a satellite city of Beijing or an alternative business hub, but Cunningham begs to differ.
He seemed amused by the idea and patiently explained.
"Tianjin is not just any port city. It's the gateway to North China. The city itself is steeped in history and has a population of more than 13 million people."
He also considers Tianjin as a manufacturing and logistics center, instead of a financial hub. "For instance, the St. Regis Tianjin hosts more guests from the manufacturing industry while there are more regulars from the field of finance at the St. Regis Beijing."
Cunningham comes across as quick-witted but he remains humble even though he has worked in the highest echelon of hotels, including Claridge's, the Berkeley and Brown's.
To him, these working experiences have enhanced his hands-on operational skills but his standard of the service benchmark has not changed.
"I think the lens of luxury has changed and so has expectations, but the basics of service has not changed," he says.
He says the trend of global personalization has pushed many factors to improve and adapt as the luxury hotel market grows.
"At the end of day, we know more about our guests now than we ever did, which makes it possible to deliver more preferences for our guests in more personalized ways."
From his perspectives, "high touch" is as valuable as "high tech" to his clientele.
"As much as guests like the idea of having multiple gadgets in their hotel rooms, they still expect a good old-fashioned warm welcome when they arrive."
Cunningham genuinely believes a good general manager might come from many different backgrounds, but as he rose from the ranks through both the F&B and room division departments, it has allowed him to see what it is like to be in his employee's shoes and to understand them better.
During his time in China, Cunningham managed Westin and St. Regis hotels, both part of Starwood's luxury five-star brands.
He thinks the main difference is that the Westin is a pioneer brand focusing on creating awareness on wellness and the green lifestyle, while St. Regis pinpoints its range of bespoke service as a unique selling point.
"For example, we have 24-hour butler service available to accommodate our guests' needs, including things like unpacking or packing for them - no request is too small." And that is the service standard Cunningham lives and believes in.