Beauty through the eyes of foreign lenses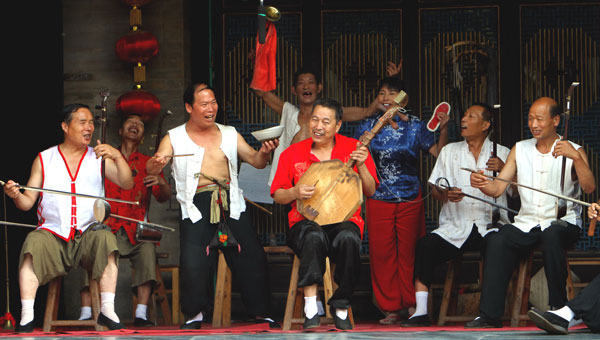 Folk artists perform at Guanzhong Folk Art Museum in Shaanxi province. Emlyn Hope B. Rillon / For China Daily
Eleven cameramen from 10 member states of Asia News Network gathered recently in China to get a glimpse of different parts of the country through their lenses. They attended a trip titled 'Beautiful China - Asian Photographers Focusing on China', organized by China Daily. Wen Jiao reports.
The event kicks off in Minqin county, Northwest China's Gansu province. Surviving as an oasis on the Gobi Desert, Minqin is the home of Hongyashan Reservoir, one of Asia's biggest reservoirs in the desert. To counter sand storms, local people have planted a large area of sunflowers that can grow in the infertile land. For many of the photographers who have never been to a desert before, it was a new and touching experience.
Berto Basilissa Wedhatama from Jakarta Post, Indonesia says: "It's really hard for me to find the words to describe the natural extravaganza of the sunflowers in the desert and local people's campaign in anti-desertification. Or just one word, incredible!"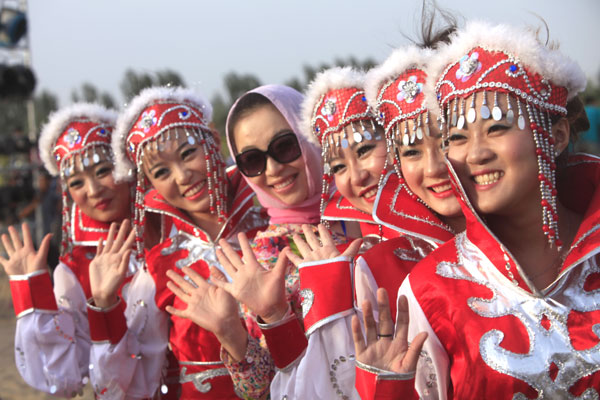 Women dressed in their holiday best welcome visitors in Minqin county, Gansu province. Berto Basilissa Wedhatama / For China Daily
In Xi'an, the capital city of Shaanxi province that enjoys a glorious and long history, foreigner journalists experience the beauty of colorful Chinese culture. The Bell and Drum Towers, old walls, Dayan (Wild Goose) Pagoda, Hui (Chinese Muslim) street and Terracotta Warriors make up a vivid picture of this ancient capital of 13 dynasties.
The Song of Everlasting Sorrow, an opera sharing the same title as a poem written by Tang Dynasty's (AD 618-907) famous poet Bai Juyi, wins their acclaim for its perfect combination of sound and light.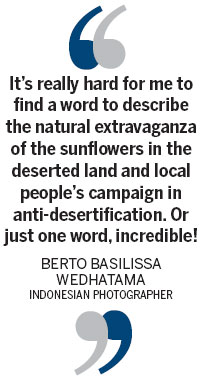 "Xi'an deserves millions of photos. The Song of Everlasting Sorrow in Huaqing Hot Spring, the first Chinese great historical pantomime, is impressive. I have never seen such a great performance in my life," says Md Amran Hossain from Bangladesh's Daily Star.
Tianjin is a city with a unique East-meets-West atmosphere. Old buildings in its financial areas, the ancient culture street and little Italian neighborhood are all well preserved and have different charms.
At the same time, the metropolis' impressive urban construction and economic development are demonstrated in Tianjin port and national animation industry park. What draws most attention from the cameramen is the cultural attractions with typical Tianjin style, such as Clay Figure Zhang and Tianjin Yangliuqing New Year paintings.
Thanis Sudto from The Nation, Thailand, is fascinated by Tianjin's unique culture.
"I love the nice ancient cultural street that offers novel and fancy things all around you, and I had a chance to buy the xiaorenshu, a small book drawn by hand for children in the past decades in China," he says.
The high temperature in Zhejiang, Southeast China does not spoil the photo team's fine mood when experiencing the picturesque "Jiangnan" (lower reaches of the Yangtze River). Photographers are engrossed taking photos of Nianbadu old town, Mount Jianglang and Guyan town.
Many journalists are amazed at Zhejiang's natural beauty. "The scenery there is magnificent and I have taken many fantastic videos. I will surely go back to Zhejiang. I love Zhejiang, the picturesque province," says Lance Matthew Crayon from China Daily's website division.
As part of the public relation campaign initiated by the Information Office of the State Council and National Tourism Administration in 2013, the Beautiful China event plays a significant role in promoting foreigners' deeper understanding of China. The event was held from July 22 to August 5.