World cultures on display at upcoming exhibition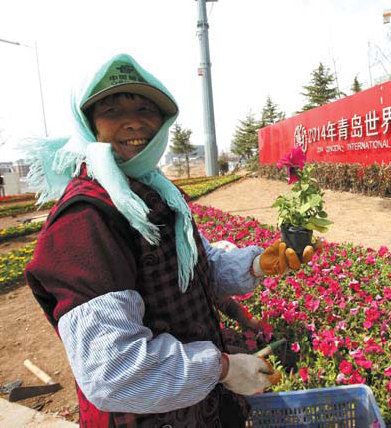 A gardening worker plants flowers at the expo venue on April 22. Xu Chongde / For China Daily
From the overall planning to the design and construction of a number of main venues and pavilions, the 2014 International Horticultural Expo in Qingdao promises to be a masterpiece that represents the world's top talent in horticulture and architecture.
Related:
Coastal city greens up its act for horticulture event
Qingdao to use expo as launch pad for new growth
The government of Qingdao is integrating different styles from around the world into the local history and highlights to give a richer cultural connotation to the event that has been "seldom witnessed in previous horticultural expos in the nation", said local officials.
Many nationally and globally renowned gardening experts have been invited as consultants, such as Doeke Faber, former president of the International Association of Horticultural Producers, Meng Zhaozhen, academician of the Chinese Academy of Engineering, and Zhang Qixiang, vice-president of Beijing Forestry University.
Designers from more than 30 teams from around the world took part in the venue planning.
The Theme Pavilion is designed by Ben van Berkel, founder of the renowned UN Studio architectural design firm from the Netherlands.
The design of the Botanical Pavilion comes from the Los Angeles office of HKS Architects while the arrangement of plants inside the pavilion is made by a British company.
"The expo will showcase not only plants but also cultures," said Li Fengli, secretary-general of the expo's executive committee.
"We will highlight the cultures of China and Shandong province - the birthplace of Confucius. And many participating countries and regions will highlight theirs," Li added.
The organizers have invited international guests from all continents, representing cities, regions and nations that feature distinctive gardening characters to the expo. More than 30 international exhibitors in the International Garden will present various elements.
There will be a French-style village, a German beer garden, ethnic architecture of Nepal and a maze built using plants from Central and South America. Visitors will be allowed to "enjoy the essence of gardening all around the world in a single day", said organizers.
Many countries, including France, Germany, Sweden, Thailand and Japan, have decided to send high-level delegations along with exhibitors.
Construction on 13 national gardens has already begun, and 70 percent of the construction has been completed.