Dreamlike destination

Detian Falls spread 200 meters wide amid the lush forests of the China-Vietnam border in Guangxi Zhuang autonomous region. Photos by Ye Jun / China Daily
Waterfalls, rivers, mountains and history - Detian has it all. Ye Jun recommends this picturesque village as the perfect place to rejuvenate.
Before my trip to Detian, I knew nothing about this village on the border of China and Vietnam, except for one fact - it's famous for its waterfalls.
In recent years, local people have turned this border village in Daxin county, Guangxi Zhuang autonomous region, into a tourist destination.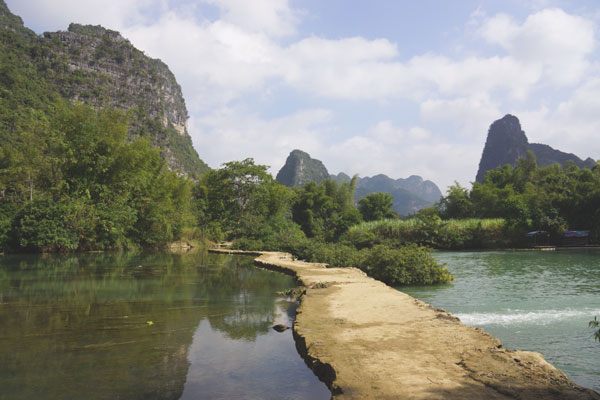 The border village attracts tourists with its beautiful landscapes.
We arrive at Mingshi Shanzhuang resort at night. It comes as a bit of a surprise to find two hills illuminated with lights next to the resort. After dinner, we head for a bar near a river, which is also lit with neon lights.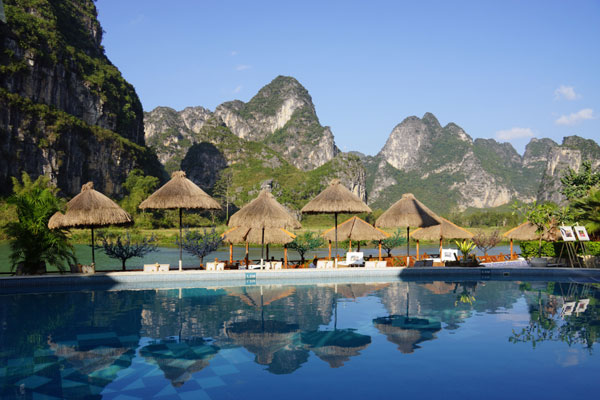 Mingshi Shanzhuang resort is nestled among rolling hills.
The resort is built on stilts, the style of the Zhuang ethnic group's houses called diaojiaolou. Rising above ground, the design is meant to avoid insects and animals and features beautiful overhanging eaves.
But, the resort's interior is more fanciful than we expected. The rooms are decorated with cozy wooden floors and equipped with a low bed, and a small tea table. The other facilities are of a five-star hotel standard.
I wake up to a spectacular surprise as I draw the curtains after a good night sleep - a view of clear green water among picturesque hills with egrets flying by.
Not until then did I realize the hotel is nestled at the foot of hills and lying by a river.
The road to Detian Falls is dubbed a "hundred-mile photo gallery", and not without reason. Many TV dramas have been shot there, we were told.
Besides beautiful scenery, Detian's lush tropical forests are an abundant source of Chinese medicinal herbs.