Rented cars offer New Year options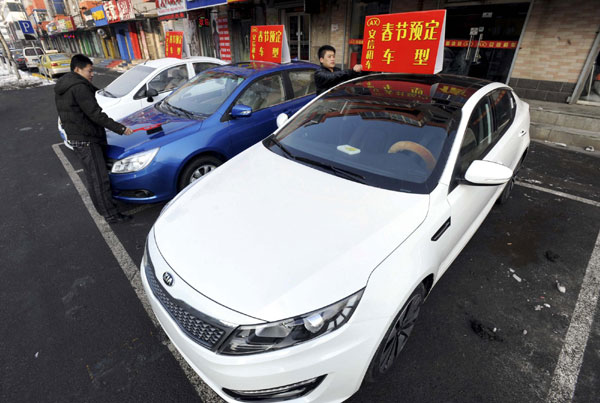 An employee of a car rental company in Shenyang  is cleaning cars, Jan 16, 2013.
Airplane tickets are overpriced. Railway tickets are hard to get. Yes, going home for the Lunar New Year is a problem.
Some have found solutions in car rentals. It's a little pricey, but less troublesome.
This year Zhang Wenzhi, a self-employed 43-year-old in Beijing, has decided to take a 2.5-hour drive to his hometown Tangshan, Hebei province, with his wife and son.
"Tangshan is only 200 km away. But can you believe that I couldn't get train tickets? " Zhang says.
A one-way journey by rented car may cost more than 500 yuan ($80), but Zhang also gets to carry home more souvenirs without having them destroyed on a packed train.
Compared to last year, the number of car rentals during the holiday period has soared, according to Shao Wei, spokesperson for eHi Car Service, one of China's biggest rental car providers.
"We have 10,000 cars on standby nationwide this year, twice last year's figure." He says the company has noticed a sharp increase in demand this year, especially after the lifting of highway toll fees.
"Despite news of traffic jams, many still go for car rental. The requests for Spring Festival reservations started to pour in since October," Shao says.
For those who are only planning to rent a car now, it may be too late since 90 percent of Beijing's rental cars have been booked, a survey by the Beijing Legal Times suggests.
In Shanghai, average car rental charges have increased by about 50 percent. But they are still in hot demand and customers do not have many options in terms of the make of the cars, Oriental Morning Post reports.
This year will be the second year that Ma Zilong, a 27-year-old white-collar employee in Shanghai, will be driving 1,550 km home to Baoji, Shaanxi province.
A seven-day rental costs approximately 6,000 yuan including insurance and gas. It is about the same price as a round-trip airline ticket for two. His journey will take more than 12 hours.
"But with a car, my girlfriend and I can drive around to visit our relatives and take the family out on short trips. That's what we do during the Spring Festival and a car is definitely a plus," Ma says.
The car rental business has been gaining momentum in recent years. A Roland Berger report says the industry has maintained a 27 percent annual growth rate and may hit 39 billion yuan in the next two years.
sunye@chinadaily.com.cn