Asia's most laid-back capital city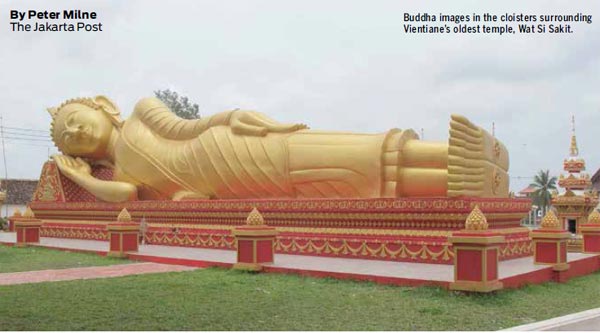 Today, Vientiane is booming, tourists flock to the city and the country as a whole. However, Vientiane still retains much of its original small-town charm, and still distinctly lacks the hustle and bustle of most other Asian capitals—at least for now.
Incidentally, the name Vientiane is actually a French transliteration of the Lao name for "city of sandalwood", pronounced wiang chan.
Related: Living Buddha sees blessings in earthquake
It is one of the few remaining relatively traffic-free Asian cities, where touring on a bicycle is probably the best way of getting around.
If there were a title for the most relaxed and laid-back capital in Asia, Vientiane would surely win the prize. That in itself makes the city—which is really little more than a town, with a population of under 300,000—an interesting place to explore and soak up the atmosphere for a few days.
While not over-endowed with magnificent city sights—thanks largely to its warlike neighbours—there are a handful of places that visitors to Vientiane should try to see if they have the time.
Probably the most important is the city's oldest surviving Buddhist temple, Wat Si Sakit, completed in 1824, and restored in the 19th century by the French. The interior of the sim (the uposatha; ordination hall) contains thousands of small recesses in the walls that house miniature silver images of Buddha.
Surrounding the sim is an enclosing cloister containing rows of serene Buddha images made of wood and dressed in colourful saffron sashes.