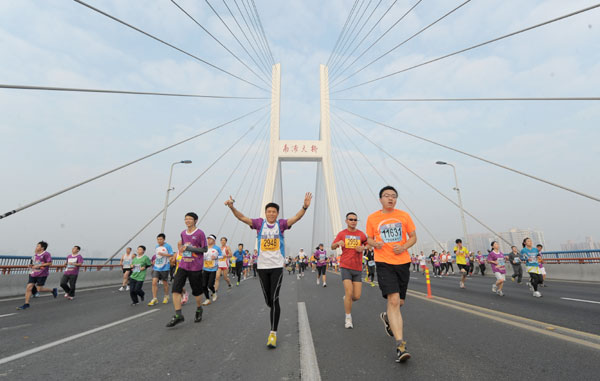 Runners pass the Nanpu Bridge in last year's Shanghai International Marathon. [Photo by Cao Zichen/For China Daily]
Want to warm up for the coming winter? Consider signing up for the 2012 Shanghai International Marathon.
In one of the most popular and traditional mass sports events of the city, runners will take off on Dec 2 at Chenyi Square on the Bund this year.
On Oct 6, the first day of registration, more than 3,000 candidates registered for the event. Expats account for more than 10 percent.
Famous landmark Huaihai Road and Xuhui Binjiang area will be part of the marathon route map for the first time. Runners will have the chance to experience the beauty of Shanghai while streaming with sweat.
The event includes a full-length race, which is about 42 kilometers, and a half-length race, which is about 21 km. Both start from Chenyi Square and end at Shanghai Stadium.
Popular sightseeing spots such as the Expo Garden, Nanpu Bridge and bustling Nanjing Road will be passed by during the race.
Candidates who want to join the full-length race should be more than 20 years old, and for the half-length race the candidates should be older than 16. Health certificate from authorized medical organization will be required.

For those who want to participate into the event but lack of ability to run a long distance, the "fun marathon" is a great option with a course of about 4.5 km. Unlike the formal marathon race, the end point is Shanghai Expo Center.
The Shanghai International Marathon started in 1996 and has been successfully held for 16 years. The scale of the race has expanded each year, and in 2006, the number of competitors has reached more than 17,000.
Enthusiasts can visit the registration office or go online and sign up to compete.
lixinzhu@chinadaily.com.cn