Climb, play and pray: Mount Taishan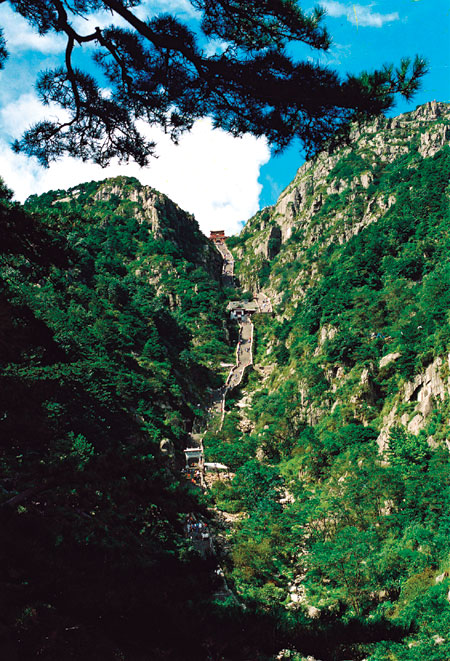 According to many ancient Chinese creation myths, Taishan was the point from which the world originated. Today, the mountain in Shandong province is still revered both in the Buddhism and Taoist faiths. Traditional belief also maintains that each day begins with the sun rising at Taishan before it starts its westward journey across the world.
Mount Taishan rises 150 meters above sea level in the city of Tai'an to 1,545 meters at the Jade Emperor Peak. It is a World Heritage Site festooned with a chain of 22 temples, 97 ruins, 819 stone tablets and 1,018 stone inscriptions.
A journey by bus or on foot will end at Zhongtian Men (Middle Heaven's Gate), the final destination of the western route. While trekking up, you will come across a few historically significant spots, including the Longevity Bridge, which spans a small waterfall feeding the Black Dragon Pool. Ancient legends say that this lake was inhabited by submerged cities of mermen, who would occasionally pull passers-by into its depths and transform them into animals.
To see the sunset, the western side of Jade Emperor Peak is the best vantage point to watch the setting globe sink into the sea of clouds below.
If you go: Get to Jinan, Shandong's provincial capital, by plane, and take an express bus from the airport to Tai'an city. It's a 90-minute ride. If you start from downtown Jinan, go to Beiyuanjie for buses to Tai'an. They leave every half hour. From Tai'an Bus Station, it's a 10 yuan ($1.58) taxi ride to Taishan.
Sun worshippers can find lodging on the mountain. Hotels on the mountainside are quite expensive (about 1,400 yuan, or $182, per night on average for pretty austere accommodation). A cheaper option is catching a night's sleep in bunk beds lining these hotels' hallways (200-600 yuan) or renting a tent (as low as 25 yuan).