PyeongChang 2018 Olympic flame starts journey from Games' birthplace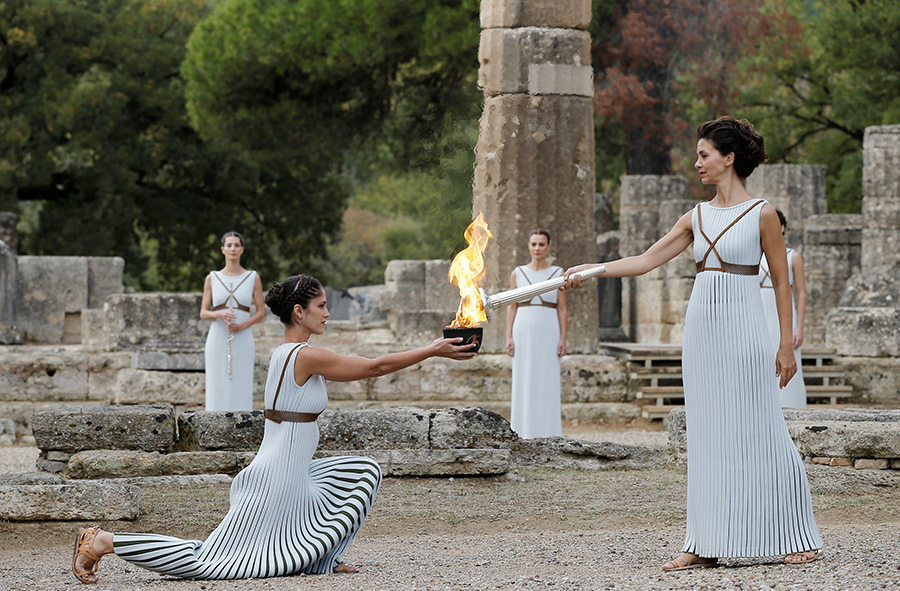 Greek actress Katerina Lehou, playing the role of High Priestess with the flame on the torch during the Olympic flame lighting ceremony for the Pyeongchang 2018 Winter Olympics in ancient Olympia, Greece, on Oct 24, 2017. [Photo/Agencies]
ANCIENT OLYMPIA, Greece - The Olympic Flame that will be burning for the 2018 PyeongChang Winter Olympics started its journey on Tuesday from the birthplace of the Games at ancient Olympia in western Greece, after a ritual ceremony.
Due to the cloudy and rainy weather, changes were made in the program of the flame lighting ceremony.
Greek actress Katerina Lehou in the role of a High Priestess, who stood before the 2,500-year-old Temple of Hera, a goddess in ancient Greek mythology, did not use a concave mirror to ignite the torch with the sun's rays, as per tradition.
Instead, she lit the torch at 12:33 am local time from a replica of an ancient urn where the Sacred Flame was kept.
It was not the first time that the torch was not lit from the sun's rays during the official ceremony, Greek organizers noted, saying that the Sacred Light would still carry the best wishes of Greek people and the Olympic movement for a successful Games.
The last time the urn was used in the official lighting ceremony was in 2000 for the flame which burned for the Sydney Summer Olympics.
Following a dance performance by dozens of artists on the slope of the ancient stadium which hosted the first Games 25 centuries ago, the High Priestess passed the torch to the first torchbearer, Greek cross-country skier Apostolos Angelis, along with an olive branch.
Another dancer released a white pigeon to spread the Olympic ideals of friendship and peace to the world.