China's Fan defends uneven bars title at gymnastics worlds in Montreal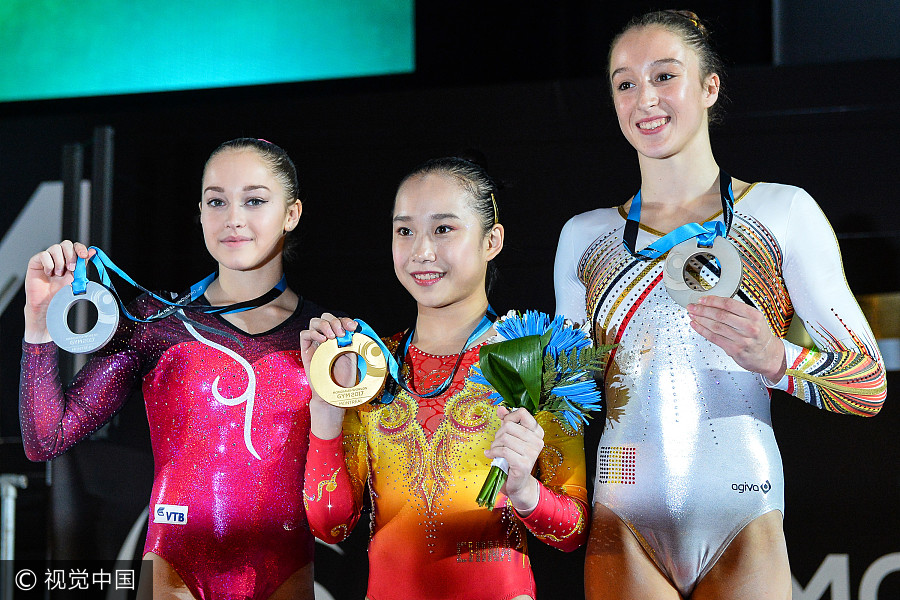 Elena Eremina of Russia (left), Fan Yilin of China (center) and Nina Derwael of Belgium (right) pose with their medals after competing on the uneven bars during the individual apparatus finals of the Artistic Gymnastics World Championships on October 7, 2017 at Olympic Stadium in Montreal, Canada. [Photo/VCG]
WASHINGTON - Chinese gymnast Fan Yilin successfully defended her title in uneven bars of the world championships in Montreal, Canada on Saturday.
Two years ago in Glasgow, Fan shared the world title with three rivals, an unprecedented result in modern gymnastics history. This time Fan made sure she put herself alone atop the event by taking the title again with 15.166 points, defeating all-around bronze medalist Elena Eremina of Russia by a mere 0.066. The third place went to Belgium's Nina Derwael, who earned her country's first world medal.
"The gold boosts my confidence in a great way. I will work harder on the event and make my performance much better," said the 17-year-old Fan.
Russia's Maria Paseka won her second consecutive women's vault world crown with 14.850, beating American Carey Jade to second place. Swiss Giulia Steingruber was third.
Paseka, 22, won at Glasgow in 2015 and was second in the event at last year's Rio Olympics after placing third at the 2012 London Olympics.
In men's part, Japan's Kenzo Shirai took his third floor exercise crown with 15.633, defeating Israel's Dolgopyat Artem by 1.1 with American Moldauer Yul third on 14.500.
"I used up a lot of spirit in the all-around final and didn't have much left for the floor. I am glad I could put on the kind of display that would force the other competitors to give up," said Shirai, third in Thursday's men's all-around competition.
In other men's finals, Rio Olympic and defending world champions Max Whitlock of Britain (15.441) and Eleftherios Petrouinas of Greece (15.433) won the men's pommel horse and rings respectively.