Mexican consulate team wins Guangzhou soccer tournament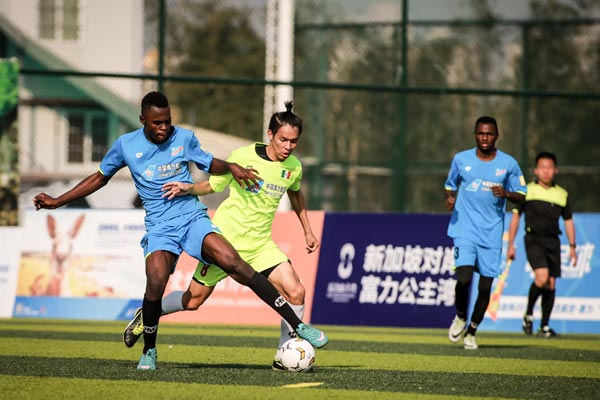 Players from the Guangzhou consulates of Mexico and the Democratic Republic of the Congo during the final of the R&F Consulate Championship, Dec 18, 2016. [Photo provided to chinadaily.com.cn]
A soccer team made up of staff from the consulate of Mexico in Guangzhou won an inter-embassy tournament by beating their counterparts from the Democratic Republic of the Congo 2-1 on Sunday.
The tournament, inaugurated by the Chinese Super League club Guangzhou R&F, was aimed at boosting grassroots soccer communication between overseas consulates based in Guangzhou, the capital of Guangdong province, according to the organizers.
It lasted six weeks and featured 16 teams from 14 countries and regions.
The organizers hope the tournament will become an annual event and are looking to promote more such grassroots competitions in future.
The consulates of Angola, Columbia, the Democratic Republic of the Congo, Ecuador, France, Israel, Italy, Mexico, Poland, Spain, the Netherlands, the United Kingdom and the United States competed in the tournament alongside three Chinese teams.
"We will develop the tournament into a leading platform for soccer for consulates in Guangzhou," said Huang Shenghua, vice chairman of Guangzhou R&F Football Club.
Most Popular
Highlights
What's Hot