Djokovic breaks Becker's service after three years
Novak says split with coach was 'joint decision'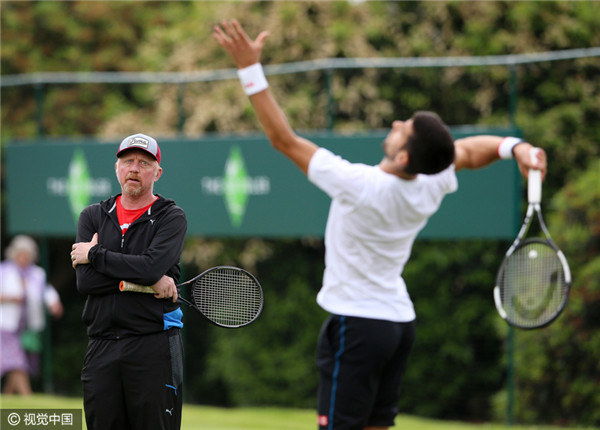 Boris Becker looks on as Novak Djokovic serves on the practice courts during day two of The Boodles at Stoke Park, Buckinghamshire on June 22, 2016. [Photo/VCG]
Novak Djokovic and coach Boris Becker are splitting up after three years and a half-dozen Grand Slam titles.
Djokovic posted a statement on Facebook on Tuesday, saying the duo "jointly decided to end our cooperation."
"The goals we set when we started working together have been completely fulfilled, and I want to thank Boris for the cooperation, teamwork, dedication and commitment," Djokovic's posting said.
"On the other hand, my professional plans are now directed primarily at maintaining a good level of play, and also to make a good schedule and new goals for the next season. In this regard I will make all future decisions."
Of Djokovic's 12 career major singles trophies - trailing only Roger Federer's 17 and Pete Sampras and Rafael Nadal with 14 apiece - half came while working with Becker.
Djokovic also was runner-up at three Grand Slam tournaments during his time with Becker, meaning the Serb made it to the finals at nine of the 12 majors during their partnership.
Becker also was around for Djokovic's first French Open title in June, which allowed him to become the eighth man to complete a career grand slam - at least one championship at each of the sport's four most important tournaments - and the first in nearly a half-century to win four majors in a row.
Becker, now 49 and a six-time Grand Slam winner during his playing career, reacted on Twitter by posting a photo of himself and Djokovic celebrating this year's French Open title, saying: "Thank U! We had the time of our life ...#teamdjokovic."
At Roland Garros, Djokovic was asked about working with Becker, who was a dominant force in the 1980s and '90s and part of a recent wave of past greats who signed up to coach current stars.
Most Popular
Highlights
What's Hot