Sniping Mourinho says United's luck will change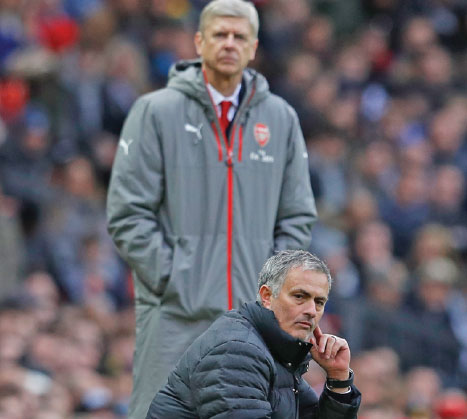 Manchester United manager Jose Mourinho (front) and Arsenal manager Arsene Wenger watch on during their sides' Premier League match on Saturday. Phil Noble / Reuters
His team had been sucker-punched by Arsenal, but Manchester United manager Jose Mourinho could not resist one last dig at his opposite number Arsene Wenger.
"Finally, I lost against Arsene," Mourinho declared as he left the Old Trafford news conference room following a 1-1 draw he said felt "like a defeat".
"Finally, I lost against Arsenal."
Saturday's result in fact extended Mourinho's unbeaten run against Wenger's Arsenal to 12 league games, but that was of little consolation after a contest United dominated.
Juan Mata gave the team a deserved 69th-minute lead, but with a minute to go, substitute Olivier Giroud headed in an equalizer with Arsenal's first effort on target.
It has become a recurring theme for United, which has drawn three consecutive home games in the league for the first time since April 1992.
Maddeningly, in those three games - a 0-0 stalemate with Burnley and 1-1 draws against Stoke City and Arsenal - the players have had a total of 74 attempts on goal to their opponents' 19.
United remains sixth in the table, six points below fourth-place Arsenal and eight points behind Jurgen Klopp's leader Liverpool.
'The unlucky team'
Mourinho, though, believes it is only misfortune that is keeping his team from the Champions League places.
"At this moment, we all know internally we are the unlucky team in the Premier League," said Mourinho, who was missing injured center-backs Chris Smalling and Eric Bailly, and the suspended Zlatan Ibrahimovic.
"We just focus on Burnley, Stoke and Arsenal - nine points, easily. If we have six points more, we are top four and close to the top of the league.
"We have a lot of work to do, we know that. We have lots of kids that are mistake-prone. We also know we have some amazing players that turn 33, 34.
"We know that other teams are prepared with much different conditions.
Most Popular
Highlights
What's Hot