Determination drives Ma Qinghua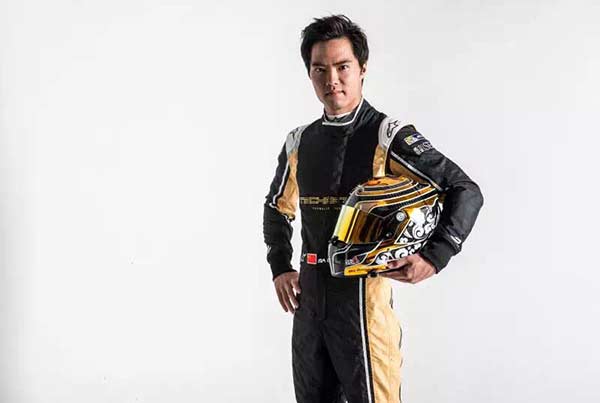 Chinese driver Ma Qinghua finishes in a respectable 15th in Saturday's Marrakesh ePrix. Provided to China Daily
China's only ePrix driver aiming high
After car damage forced him to drop out of a race in Hong Kong last month, Ma Qinghua's goal to simply complete Saturday's Marrakesh ePrix seemed cautiously optimistic.
He accomplished that goal - and more.
After failing to complete the qualifying run, the Shanghai native put the pedal to the metal to showcase his skill over the tricky 33-lap race, vaulting up three places from his starting position to finish a respectable 15th.
"I really need to improve qualifying next time; I've gained much experience that will help me do that," he said.
Ma's team, Techeetah, is one of the newest in the 2016-17 FIA Formula E Championship. Formerly known as Team Aguri, it was acquired and renamed by Chinese sports development and management company SECA earlier this year.
Ma made three previous appearances for Team Aguri last season before competing for Techeetah at the Hong Kong ePrix on Oct 9.
"The greatest thing about Formula E is that we are racing on temporary streets in the middle of cities instead of dedicated tracks," he said. "The city streets keep changing all the time, so for drivers, there is no margin for error."
With EVs (electric vehicles) becoming a major focus in the automotive industry, Ma believes Formula E represents the next big trend in motorsport.
"I think it is also going to be the most competitive race among all FIA's motorsports in terms of driving skills and technology," he added.
Unlike Formula One, which holds practices, qualifying and the race over three days, Formula E strives to pack all the action - two practice sessions, qualifying and the race - into one breathless 12-hour window.
"The electric racing series requires some skills that are not needed in petrol-powered motor racing. Managing the electric energy throughout the race can make a huge difference," Ma said.
The first and only Chinese Formula E driver on the grid, Ma started kart racing at the age of 7, after his father let him drive an adult kart at a club in Shanghai.
"I used to be a timid boy, and my father wanted to toughen me up," he said.
At age 12, he won his first championship at the national kart racing competition and became a regular top three finisher in subsequent competitions.
Ma launched his international career in 2005 and rose to fame as a test driver for now-defunct Formula 1 teams HRT and Caterham before becoming the first Chinese driver to take part in an official F1 session during the 2013 Chinese Grand Prix.
Ma is also the first Chinese driver to win a WTCC race, clinching victory during his debut at the 2014 Race of Russia.
With 12 more races on this season's Formula E Championship calendar, the 28-year-old said he is "fully charged" to go forward. Following a mid-season break, the next event is set for Feb 18 in Buenos Aires.
Ma hopes to one day be able to showcase his skill to hometown fans in Shanghai.
"How nice it would be to be able to roar past places I am so familiar with, like the city center, the restaurants I often go to or perhaps even the front of my house," he said. "That would be great!"
songwei@chinadaily.com.cn
Buemi masters Marrakesh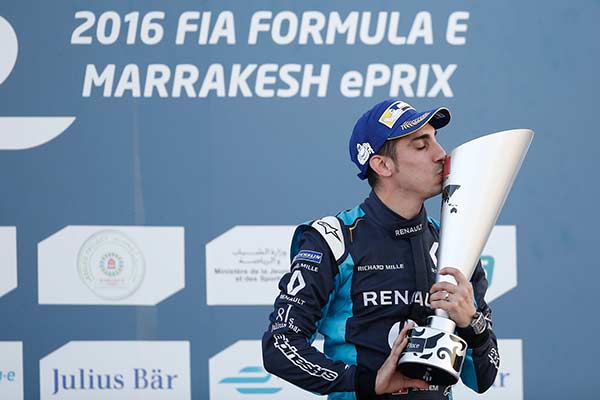 Sebastien Buemi kisses the winner's trophy after victory.
Sebastien Buemi of Renault e. dams overcame a grid penalty and fought back to the front of the field to claim his eighth Formula E victory on Saturday in the Marrakesh ePrix.
The Swiss driver started in the seventh slot after being demoted five places for running with an underweight fire extinguisher.
The reigning world champion clinched the 2015-16 FIA Formula E title at July's season-ending London ePrix, and his victory in Marrakesh opened the circuit's third season with a flourish.
The runner-up was Sam Bird of DS Virgin Racing, while Mahindra Racing's Felix Rosenqvist finished third.
Rosenqvist, who started his second Formula E from the Julius Baer Pole Position, led for 27 of the 33 laps, but after the pit-stop, Buemi steadily gained.
Trying to save energy in the closing laps, Rosenqvist was unable to keep Bird at bay and the British driver whipped past him to collect 18 points.
Buemi, along with ABT Schaeffler's Daniel Abt and Lucas di Grassi, were awarded an additional 100kj "FanBoost". The power boost was granted artificially to the three most popular drivers voted by fans online.
Ten teams and 20 world-class drivers challenged the Circuit Moulay El Hassen in front of about 7,000 spectators.
The Marrakesh ePrix is the second of 14 races in the 2016-17 Formula E championship. The series now takes a mid-season break, before returning with the Buenos Aires ePrix in Argentina on Feb 18.
Most Popular
Highlights
What's Hot