Lippi looking to light China's fire
New coach faces first challenge in Kunming qualifier
Steering underachiever China onto the path to soccer greatness is one of the toughest tasks Italian master coach Marcello Lippi has ever faced.
Indeed, some fans think it's an impossible mission for the man who was handed the national team's reins last month.
Starting with Tuesday's World Cup qualifier against Qatar in Kunming, the silver-haired Lippi will set out to justify his hefty salary.
Lippi, 68, won the World Cup with Italy and he is the only coach to lift both the European and Asian Champions League trophies, with Juventus and China's Guangzhou Evergrande.
But he faces an entirely different challenge as coach of Team China, whose dismal performances have seen it lambasted by its own long-suffering fans.
While China's well-heeled clubs, notably Evergrande, have spent their way to success, 'Team Dragon' remains mired at 84th in the FIFA world rankings - below nations like Israel, Curacao and Libya.
Such is fans' disillusionment that one widely circulated comment on social media compared Lippi's arrival to "a tycoon hiring a Harvard graduate to tutor his retarded son".
Lippi's appointment - at a reported annual salary of $20 million - is the latest gambit by the Chinese FA.
The cigar-loving coach guided Italy to the 2006 World Cup title, four years after China made its sole appearance at the tournament in 2002, when it failed to win a point or even score a goal.
While Lippi had undoubted talent at his disposal with Italy, Juventus and even deep-pocketed Evergrande, he cannot buy fresh players to revitalize China's squad.
Stacked odds
He replaces Gao Hongbo, who resigned last month after two losses in five days to war-torn Syria and Uzbekistan left the world's most populous nation at the bottom of Group A in World Cup qualifying, with just one point from four games.
With six games remaining and only the top two of six teams qualifying automatically for Russia 2018, the odds are stacked against China.
A loss to Qatar will reduce its already slim hopes to almost zero.
But there are reasons for cautious optimism. China beat fellow struggler Qatar, the 2022 World Cup host, in the previous qualifying round in March.
And Kunming, in southwest Yunnan province, has an altitude of 1,900 meters above sea level. With China spending an 11-day training camp in the city, home advantage could be critical.
"There is no guarantee of victory against Qatar, but we will do our best," Lippi said this week, according to Sina.com. "I am looking for improvements from the players."
He has identified his first task as changing the players' mentality, scarred by decades of failure which have left their mark on the team as well as on fans.
"Our main goal at the moment is to help the players to become more confident and know exactly what they have to do," said Lippi.
China has previously shelled out big money for coaches, with limited success. Former Spain and Real Madrid boss Juan Antonio Camacho was signed for $8 million in 2011, but was fired in 2013 for poor results.
In April, the Chinese FA unveiled a long-term plan to make the national team a world superpower by 2050.
Lippi has an early role to play in changing the culture around the team - and he's already making an impact.
Confidence
According to veteran midfielder Huang Bowen, Lippi's arrival has brought a sense of self-belief to the Chinese camp.
"We have Lippi with us," Huang said. "This is what gives us the most confidence. He has stressed that we must have the desire to win and believe in ourselves and our teammates."
Huang is one of seven players on the squad from Guangzhou Evergrande, Lippi's team from 2012-14 which has just won a sixth straight Chinese Super League title.
"They have a winning mentality, they have an understanding of international soccer," Lippi said of Evergrande.
"These are all positive things which could lead us to positive results."
Lippi, whose contract runs until early 2019, hasn't entirely given up hope on reaching Russia 2018 - but he admits it would be a "miracle" if China qualifies.
"If we can win three or four matches among the next six of the campaign, I think it would still be a huge improvement no matter whether we qualify or not," he said.
"We all hope a miracle can happen and for the Chinese national team to qualify for the World Cup."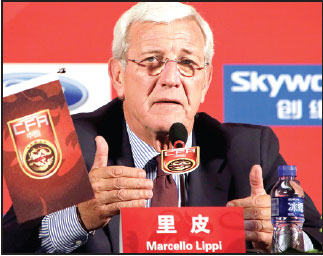 Marcello Lippi addresses a Beijing media conference after being named coach of China's national team on Oct 28.Reuters
Most Popular
Highlights
What's Hot