Children visit London for soccer, language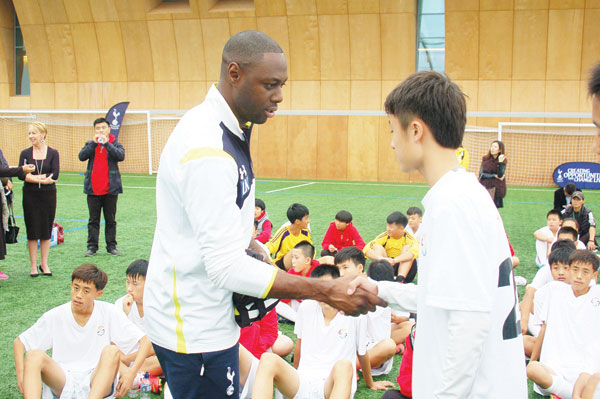 Ledley King greets young players during the launch of the Jaguar Football Campus Guangzhou in September. [Photo/China Daily] 
Forty Chinese children arrive in London on Tuesday with the goal of improving their language and soccer skills.
The China Soong Ching Ling Foundation, Jaguar Land Rover China and Tottenham Hotspur Football Club have teamed up to offer the youngsters the opportunity, via the 3rd Jaguar China-UK Football and Cultural Exchange.
The program is aimed at strengthening ties between Chinese and British children through their shared passion for soccer.
The children, many from underprivileged areas, will receive a week of intensive coaching at Tottenham Hotspur's training center in Enfield, North London.
"They will be working with authentic coaches from the club's renowned academy to improve their English language abilities and learn about the philosophy that makes Tottenham Hotspur a leader in developing young players - such as Harry Kane and Danny Rose," said Grant Cornwell, head of global coaching at Tottenham.
He said the club, which is nicknamed Spurs, has a proud tradition of developing the stars of the future and understands the importance of giving young talent the opportunity to learn and flourish.
The children will also take part in cultural events and play a friendly against British counterparts, through which they will have the opportunity to cultivate international friendships and put their soccer skills to good use.
The initiative will also help with China's quest to develop its soccer sector.
The event is part of a continuing strategic commitment from Spurs to the Chinese market, said Simon Chadwick, a professor of sport business strategy at Salford University.
Chadwick said an important characteristic of the tie-up between the three organizations behind the initiative is the notion that it will be a "win-win" activity for all parties.
"Historically, one of the problems we have seen with European football clubs in China is that they have predominantly taken, rather than given or shared," he said.
In response to the national call to develop youth soccer in China, the Jaguar Football Campus Guangzhou was launched in September. It was delivered by Tottenham Hotspur and the Jaguar Land Rover China Children and Youth Dream Fund.
That year-long program offers elite-level coaching for 42 physical education teachers from 42 primary and secondary schools in the city.
China's ambition to become a soccer superpower is seen as offering great potential business opportunities for British clubs and firms wanting to get a foot in the door commercially.
In June, England soccer legends Michael Owen and Mark Wright announced they were launching a soccer school business in China - Red Sports - which will aim to help with the development of soccer at the grassroots level.
Earlier this year, Premier League club Bournemouth partnered with Bournemouth University to host 60 Chinese coaches and help them get their FA Level 1 coaching badges.
Jeff Mostyn, chairman of the club, said it was exploring opportunities in China and looking for potential collaborators, in particular in the areas of youth development and in exchanging coaching expertise.
Most Popular
Highlights
What's Hot