The children might not be the future
Updated: 2011-12-22 07:43
By Tang Zhe (China Daily)
| | | | | | | | | | | |
| --- | --- | --- | --- | --- | --- | --- | --- | --- | --- | --- |
|   | | Comments() | | Print | | Mail | | Large Medium  Small | 分享按钮 | 0 |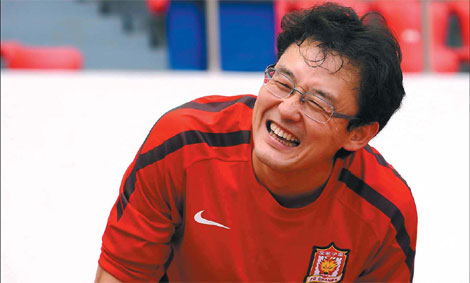 Sun Jihai, who played for Manchester City for six seasons, says "a lot of reasons, instead of any single reason, have created the current situation in Chinese soccer". Provided to China Daily
Sun Jihai, China's first English Premier League player, says the country's soccer fans might be in for a long dry spell thanks to inherent problems with the way young talent is developed, Tang Zhe reports.
There was a time when Chinese fans could find their countrymen playing in top flight European leagues. Sun Jihai was the first Chinese to play in the English Premier League, and among the most successful of China's overseas legion of the early 2000s.
However, the sport in China has regressed since those days, and young Chinese players are finding it increasingly difficult to play in the world's top leagues.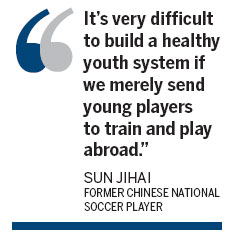 To rejuvenate Chinese soccer, the Chinese Football Association (CFA) launched the "Future Star" program last year, in the hope of sending 100 youngsters to train and play in Europe each year.
Sun, who spent more than six years at Manchester City from 2002 to 2008, said the program's influence in boosting Chinese soccer would be limited, but showed the public that the sport was returning to a positive path.
"The experience (of playing overseas) is quite helpful for the youngsters' growth individually. But look at Chinese soccer as a whole, it is just like a drop in the bucket and can hardly play any decisive role," said Sun, who has played for Shaanxi Chanba since 2010.
"It's very difficult to build a healthy youth system if we merely send young players to train and play abroad," said the 34-year-old. "Our ultimate goal should be to improve the standard of domestic training programs. I also think it's of the same importance to encourage more coaches to train young players.
"But (the program) is a good indication, because people are starting to pay attention to youth development and there haven't been such programs after the Jianlibao Pattern (in which dozens of Chinese children headed to Brazil in 1990s)," Sun told China Daily. "From the program itself, its influence (in promoting the sport) is much more significant than its importance on the field."

Sun said the most urgent thing the CFA had to achieve was popularizing the sport in schools.
Born in Dalian, Sun spent his early years playing soccer in the city before going to England in 1998. He recalled when he started to play soccer the sport was popular among children, their parents and schools. However, a lot of changes have occurred over the past few years, making the current soccer environment for children different from that of his early days.
"There were many children playing soccer at that time, and every school put the sport in an important position. For example, our primary school had nearly 10 teams playing together and the winner would play with other teams of the city on behalf of our school, then the winner of the city would play the national tournament for Dalian," he said.
"But nowadays, each family only has one child, parents are unwilling to let them play soccer. Meanwhile, children who like the sport don't have enough time to finish their homework and also play soccer. They don't have enough pitches, and some schools even forbid students from playing on the playground as they are concerned about wearing out the pitch. A lot of reasons, instead of any single reason, have created the current situation in Chinese soccer," Sun said.
Regarding the CFA's youth development plans, Sun described the initiative as "homework not finished on time".
"It's like you didn't finish your homework and always have to catch up on the next day. This (youth development) is not what the CFA should do today, but should have done earlier and be carried on all the time," Sun said. "I hope we will do solid groundwork this time, not just send some teenagers abroad, which is too simple a move."
As a Chinese soccer pioneer abroad, Sun has advice for those following in his path.
"The players must be psychologically and physically prepared. If they can play as well as Lionel Messi, they will have nothing to worry about," Sun said. "Off the pitch, I suggest they be more confident and outgoing, because it will help them to merge into their team and local culture faster, which is very important."
(China Daily 12/22/2011 page22)