A world title and an identity crisis
Updated: 2011-12-15 07:58
(China Daily)
| | | | | | | | | | | |
| --- | --- | --- | --- | --- | --- | --- | --- | --- | --- | --- |
|   | | Comments() | | Print | | Mail | | Large Medium  Small | 分享按钮 | 0 |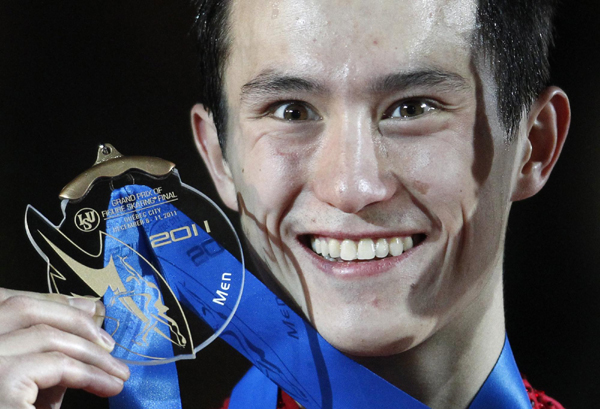 Canada's Patrick Chan poses with his medal on the podium after he won the men's International Skating Union (ISU) Grand Prix of Figure Skating Finals at the Pavillon de la Jeunesse in Quebec City, Dec 10, 2011. [Photo/Agencies]
Canadian figure skater Patrick Chan says he would get 'a lot more respect' if his parents hadn't left China
Growing up in Ottawa and Toronto as the precocious child of Chinese immigrants, Patrick Chan always dreamed of the day he would whizz around for a victory lap in one of the world's premier skating arenas draped in Canada's Maple Leaf flag.
Once that vision came true in April in Moscow's Khodynka Ice Palace, where he was crowned world champion after romping to victory by decimating the opposition with record scores, Chan discovered that the reality did not quite match up to his fantasy.
As he approaches his 21st birthday, Chan feels more and more drawn to his Chinese heritage.
"If you look at all the sports in China, the government is extremely involved and they are extremely proud of their athletes. People understand better what we do as skaters," Chan told Reuters in a telephone interview ahead of last week's Grand Prix Final in Quebec.
"Sometimes I feel we are not appreciated for how much work we put in. If my parents hadn't emigrated from China and, say, I had skated for China, things would have been very different. My parents wouldn't have had to make as much sacrifices as they have and there would be a lot more respect for what we do as figure skaters.
"I'm extremely well recognized in Korea just because of what I do on the ice, and there is a lack of that in Canada because hockey is our sport and it will be for eternity. Figure skating has lost the draw and the attention (it used to have before)."
Whereas Elvis Stojko and Kurt Browning were treated as rockstars and showered with plaudits during the 1980s and 90s - when Canadian men glided to eight world titles in 11 years - the skating landscape for Chan in 2011 is very different.
"Several years ago I felt more Canadian, but I'm slowly feeling more Chinese and feel I should be more proud of being Chinese and appreciate where I've come from. (This is because) of the support I get from the Chinese community in Canada," said Chan, who is fluent in English, French and Cantonese, as he took a break from his intensive training schedule.
"I do (wish I could have represented both China and Canada when I compete). That would be the ideal situation... in a perfect world."
It seems that in more ways than one, Chan has found himself trapped in the wrong era.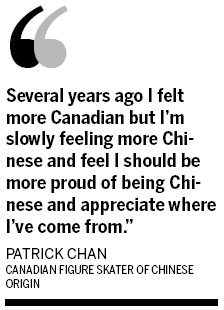 The accumulative scoring system that was introduced following the 2002 Salt Lake City Olympics appears to have stifled creativity on the ice - with athletes required to perform several compulsory elements in each routine - but Chan is determined not to turn into a skating robot.
His graceful movement around the ice brings back memories of 1976 Olympic champion John Curry, who famously combined ballet and modern dance elements in his captivating performances.
"We have much more complexity in our programs than the skaters in the '80s, but the skating in the '80s was much more epic and much more memorable. There was a lot more uniqueness between each skater, whereas nowadays it's almost become a production line," said Chan, who plans to introduce a quadruple-Salchow to his free skate by next month.
"Everyone's doing the same thing, just maybe in a different order. So I hope I can be somewhat of a throwback skater in the fact that I can bring excitement back. I can be like the black sheep of the herd, be different and be unique and be someone people will remember out of the 50 skaters at the world championships."
For most sportsmen, the best way to stand out from a crowd is by earning a title or a gold medal. But having been there and done that, Chan does not want to get caught up in a rat race where chasing after the big prizes and records becomes an all-consuming obsession.
"I feel a lot less pressure now that I'm world champion. I feel like I don't have any expectations and I can really just skate for myself. I've got absolutely nothing to prove to anyone," said Chan, who holds the records for the highest scores in both the short (93.02 points) and free (187.96) programs.
"I skate just to satisfy my own desire and not care about other people's desire for me to do well. I barely have any interest any more in how well I do in competitions. I want to skate well but my main concern is to satisfy myself and make myself enjoy what I do on the ice and hopefully the audience can feel the same thing.
"If they feel they have understood the program and have really been touched, then I feel much more accomplished than if I won a medal," added the skater, who is a favorite to complete a hat-trick of Grand Prix wins this season in Quebec.
Reuters