Take soccer back to school, says 'godfather' of Beijing soccer
Updated: 2011-08-21 07:56
By Tang Zhe (China Daily)
| | | | | | | | | | | |
| --- | --- | --- | --- | --- | --- | --- | --- | --- | --- | --- |
|   | | Comments() | | Print | | Mail | | Large Medium  Small | 分享按钮 | 0 |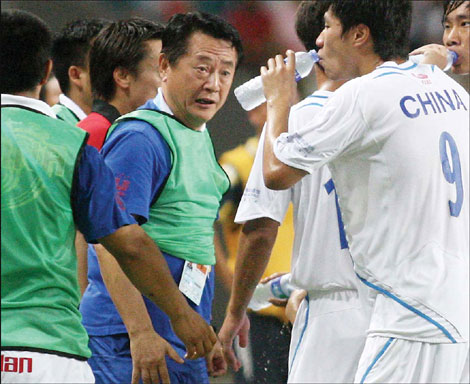 Jin Zhiyang gives instructions to the Chinese Universiade team during their men's soccer quarterfinal match against Japan on Friday. Japan won 3-2. [Provided to China Daily]
A soccer 'godfather' tells Tang Zhe the only way to improve the game in China is to take it back to school
Not much was expected of the Chinese soccer team at the Summer Universiade as knockouts at the group stage have become routine for the country's national teams in recent years.
However, the players on this young side drew fans back to the game by cruising into the quarterfinals, where they performed encouragingly before losing to four-time Universiade champion Japan 3-2.
They played their best and made their country proud, but for Chinese soccer to improve even more, the battle ahead will be waged as much off the pitch as on it.
"The biggest gap between Chinese and Japanese soccer lies in the development of the youth," said Jin Zhiyang, head coach of the Chinese Universiade team. "We have fallen behind them in every age group. They have soccer classes from primary school, and that wide base provides them with more talent to select."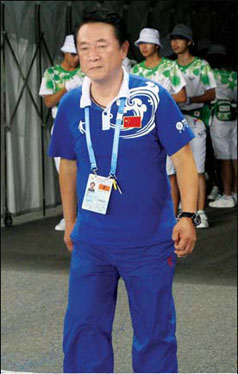 Jin Zhiyang
The 67-year-old Jin was called "the godfather of Beijing soccer" for his success at Beijing Guo'an soccer club in the 1990s. He also assisted Serbian coach Bora Milutinovic as the Chinese national team prepared for the 2002 World Cup.
However, he retreated from the frontline of Chinese soccer in 2003 and started to coach the campus team at the Beijing Institute of Technology, China's only college team which competes in the nation's second-tier league, and contributed 16 players to the 20-man Universiade squad. 
Under his guidance, China unexpectedly finished seventh at the 2003 Taego Universiade, but was absent from the games for six years after only managing to come 15th at the 2005 Izmir Universiade.
"School soccer is the foundation. Without this, Chinese soccer will achieve nothing," said Jin, whose team has secured a berth at the 2013 Kazan Universiade after reaching the quarterfinals on home soil. The top 13 teams automatically qualify for the next Universiade.
"The Japan Football Association persuaded the education ministry to introduce soccer into school classes in 1978, and it has resulted in the current situation of Japanese soccer," he said. "We are lagging so far behind Japan in terms of soccer popularization, and the Chinese can hardly depend on senior teams and national lineups to reverse that situation."
Promoting the sport here is no easy thing as exam scores decide the standard of students' future schooling and sports classes are often neglected.
"Most children go to learn mathematics, English and other skills on the weekend, but seldom go to play soccer," said Jin. "However, children can learn how to overcome difficulties, how to play as a team and become braver by joining in soccer matches. We should persuade the parents to choose soccer first."
On the other hand, children chosen to play specific sports start professional training at an early age and without a normal education, which makes it difficult for them when their sporting careers are over.
According to Jin, Japanese universities contribute 30 percent of the players to the professional league, while 70 percent come from high schools. In South Korea, the ratio is 70 percent from universities and 30 percent from high schools.
"The rapid development of soccer in Japan and South Korea reflects that education has a considerable influence on sport, but the education level of the Chinese players is low," Jin said. "Sport should be part of education, and knowledge also helps in playing soccer and building up personality. Our players need knowledge. They can play while learning."
China's soccer heads have started to pay attention to the country's talent deficit and have labelled youth development as the Chinese Football Association's (CFA) most important task over the next few years.
Chinese company Dalian Wanda, in cooperation with the CFA, has promised to inject 500 million yuan ($77.3 million) over three years to support Chinese soccer, with youth development being the priority. 
Jin said he is glad to see such developments, and has some ideas on how that liaison can be successful.
"Firstly, we must set up a healthy development system, which enables talented players to play soccer, while others still have the chance to do what they like," Jin said. "The second is to build more pitches to provide children who like soccer with enough training places.
"Then, we should encourage more retired players to coach children at universities, middle schools and primary schools," he said. "If we can realize these aspects, I think Chinese soccer will certainly improve within 10 years.
"Japanese soccer is not out of reach for us. If my university can play soccer like this, why can't others?" Jin said. "If China had 50 or 100 college soccer teams like us, Chinese soccer players would become far more confident."