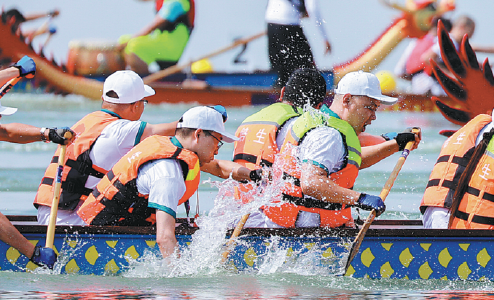 Rowers compete at a dragon boat race during the recent Xiangcheng International Culture and Arts Month in Suzhou, Jiangsu province. [Photo/China Daily]
To aid Suzhou's economic recovery after successfully controlling the COVID-19 pandemic, Xiangcheng district in the city, Jiangsu province, held a monthlong series of events to encourage nighttime consumption.
The first Xiangcheng International Culture and Arts Month opened on Sept 15 and concluded on Thursday, with 16 high-level events held over 31 days.
The events involved culture, arts, food, esports and technology, according to the Xiangcheng government.
Among the events were night fairs, a dragon boat race, an esports competition, a jewelry design festival and a forum on Feng Menglong, a celebrated writer and respected official born in Suzhou in the Ming Dynasty (1368-1644).
"In recent years, Xiangcheng has witnessed an integration of its economy, culture and urban development," said Gu Haidong, secretary of the Xiangcheng district committee of the Communist Party of China, at the opening ceremony held on Sept 15.
"It is hoped that the events will serve as a showcase of Xiangcheng's openness, vitality and charm," he said.
A highlight of the month was a dragon boat race held on Oct 11. More than 1,000 rowers from 16 countries and regions including China, France, Germany, Russia and the United States competed side by side on Xiangcheng's Caohu Lake.
The team representing a Chinese electrical equipment company claimed top honors in the men's race and a team from Soochow University won the women's.
Another crowd-puller was a night fair for cultural and creative products held on the site of Dixi Barns.
Inside the repurposed Ming Dynasty barns, smart devices and animations were showcased, a stark contrast to the antiquity of their surroundings.
Outdoors, visitors appreciated intangible heritage handicrafts up-close and sampled local specialties at stalls lined up under old ginkgo trees.
At the opening ceremony, the district government revealed a plan to promote one of Suzhou's most popular squares, the Isle of Vitality, which is located in Xiangcheng district.
The square, surrounded on three sides by water, also functions as an open-air theater.
According to the plan, the square will serve as a venue for year-round activities.
The goal is to make the square and its surrounding area one of China's top nightlife destinations in five years by improving transport facilities, nighttime tours, signage and supporting facilities.
The latest series of event is part of a larger program called "Suzhou at 8:30 pm", which was launched in mid-April by the local government to enliven the city after dark.
From left: Hairy crabs are netted at Yangcheng Lake in Xiangcheng district of Suzhou, which is the origin of dazhaxie, or hairy crabs. The monthlong cultural and art event boosts the local nighttime economy. [Photo/China Daily]
Prior to this, Xiangcheng had organized a string of nighttime activities over the last couple of months. All part of the Suzhou at 8:30 pm Program, these activities included exhibitions, soccer matches, Chinese opera performances and intangible heritage workshops.
The nighttime economy has figured high on the city's agenda in recent years.
Xiangcheng's Party secretary Gu said: "A rapidly developing economy, an improving business environment, a growing pool of cultural and tourism resources, and steadily increasing consumption have created favorable conditions for developing the nighttime economy."
On top of a packed events calendar, Xiangcheng has released policies to make traveling at night easier.
For eventgoers using public transport, Suzhou's metro has extended its operating hours. Lines 1, 2 and 4 run until 11:30 pm on Fridays, weekends and public holidays in key areas beginning April 24.
The parking lots of Party organs, governmental bodies, public institutions and State-owned enterprises have been made available for public use during the evening.
From Jan 1 to Sept 13, more than 700 nighttime economic activities were held in Xiangcheng. During this period, consumers spent more than 500 million yuan ($74 million) in Xiangcheng's five major business centers, according to the local government.
Contact the writer at huyuyan@chinadaily.com.cn