Weichai releases highest-efficiency diesel engine
Weichai Group, a nationally leading internal combustion engine producer based in Weifang, Shandong province, recently released the world's first commercial diesel engine that has a brake thermal efficiency surpassing 50 percent.
The company made the announcement during a news conference on Sept 16 in Jinan, the provincial capital of Shandong.
At the conference, representatives from international certification institution TUV SUD and domestic testing institution China Automotive Technology and Research Center granted certificates to Weichai Group, confirming that the brake thermal efficiency of its diesel engine reached 50.26 percent.
Vice-Governor of Shandong Ling Wen, who is also a member of the Chinese Academy of Engineering, and Tan Xuguang, board chairman of Weichai Group, unveiled this new high-efficiency diesel engine at the conference.
Brake thermal efficiency is an important benchmark of the performance of internal combustion engines. Higher efficiency means less consumption of fuel and less emissions, according to industry insiders.
Since the world's first diesel engine was produced in 1897, brake thermal efficiency has been increased from 26 percent to about 46 percent.
Despite stricter regulations on vehicle emissions, lifting the thermal efficiency to more than 50 percent is a great challenge that many engine producers in the world have struggled to overcome, experts and industry insiders said.
Su Wanhua, an expert in internal combustion engines from the Chinese Academy of Engineering, said at the news conference that improving brake thermal efficiency for engines is very difficult, considering producers must control the emissions of the engines at the level of China VI emission regulations.
Huang Zheng, a member of the Chinese Academy of Engineering, said improving brake thermal efficiency is a very important research direction for internal combustion engines, and the international internal combustion engine community highly values it.
Thomas Reinhart, a researcher at the Southwest Research Institute in the United States, made a comparison of the brake thermal efficiency achieved by Weichai and its US counterparts.
"In a recent survey of the heavy duty market, we found the current production of the engines of 11-liters size range has achieved 46-47 percent brake thermal efficiency, at their most efficient operating point, when they are certified for the US emission requirement," Reinhart said. "Engine manufacturers worldwide are targeting to achieve the brake thermal efficiency of 50 percent or more."
Weichai's executives attributed the breakthrough in brake thermal efficiency to the company's strong capability in research and development.
Over the past 10 years, Weichai's annual investment in R&D has eclipsed 30 billion yuan ($4.4 billion). The group has gathered more than 3,000 professionals with master's degrees, over 200 with PhDs and more than 300 experts from overseas for the development of core technologies like engines.
Weichai has had a presence in the engine industry for more than 70 years. The company is currently a global leader of internal combustion engine producers, with annual output and sales of more than 1 million units, a Weichai representative said.
The company's core technologies cover cutting-edge fields including drivetrain for commercial vehicles, continuously variable transmission and hydraulic transmission.
Weichai launched a special program for thermal efficiency improvement in 2015.
The brake thermal efficiency improvement program is led by its R&D team and based on advantageous resources accumulated during past decades, according to the company.
"Progress is not easily made," a Weichai executive said. "It's a tough exploration based on comparisons of more than 1,000 proposals and numerous experiments."
Major breakthroughs in development include such technologies as synergized combustion, exhaust energy distribution, sectional lubrication and intelligent control.
Through optimized design in the air inlet, fuel spray and combustion chamber, the synergized combustion, for instance, can lead to a 30 percent increase in combustion speed.
Experts praised the thermal efficiency breakthrough as a significant achievement.
"It represents a historic breakthrough in the development of advanced diesel engines and as such a new global benchmark in diesel efficiency," said Volkmar Denner, management board chairman of Germany-based Robert Bosch. Robert Bosch is a partner of Weichai.
According to industry insiders, the thermal efficiency increase from the industry average of 46 percent to the current 50 percent at Weichai will mean an 8 percent reduction in fuel consumption and emissions.
At the news conference, Weichai chairman Tan Xuguang announced that Weichai will deepen cooperation with its global partners and its goal for the next stage is to achieve a brake thermal efficiency of 55 percent.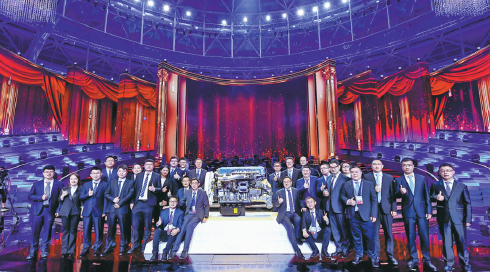 Weichai Group's research and development team members pose for a picture with the new diesel engine. CHINA DAILY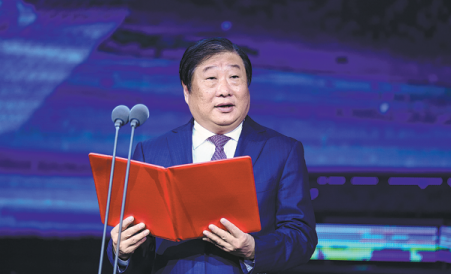 Tan Xuguang, chairman of Weichai Group, delivers a speech at the launch of the new diesel engine that has a brake thermal efficiency of 50.26 percent. CHINA DAILY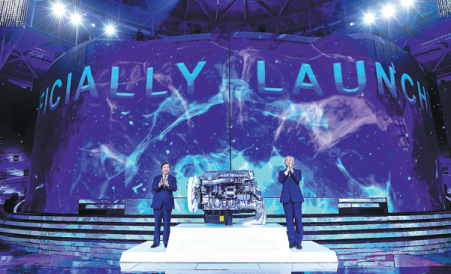 Shandong Vice-Governor Ling Wen (right) and Weichai Chairman Tan Xuguang unveil the new engine. CHINA DAILY