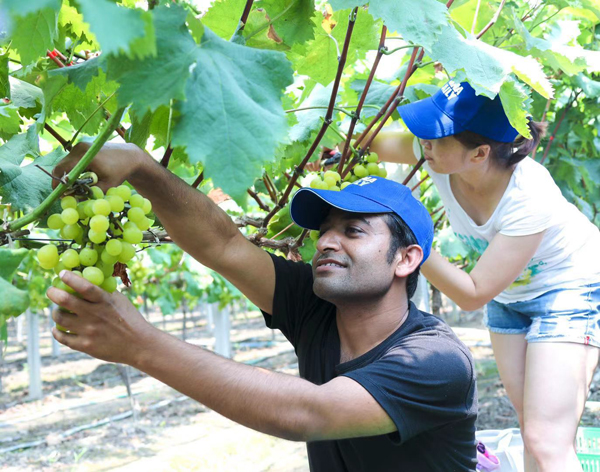 Two expats pick grapes at a vineyard. [Photo by Mao Weijun/wndonline.cn]
A group of expats from South Africa, Mexico, Egypt, Pakistan, Mongolia, and Bangladesh paid a visit to Hongshan, a subdistrict in the Xinwu district, which is also known as Wuxi National Hi-tech District, on Aug 17 to taste a local specialty and explore Chinese culture.
In the morning, the expats joined in a series of well-tailored activities related to grapes, which is a specialty of Hongshan. Thanks to the fertile earth and planting experience of farmers, the juicy and sweet Hongshan Grapes have earned its strong reputation and are sold to surrounding cities.
The expats made special tea and cakes with grapes, as well as enjoyed a grape-picking tour at a vineyard. After tasting the grapes, many of them appeared impressed by the unique taste, with some even saying they would recommend the fruit to their expat friends in China.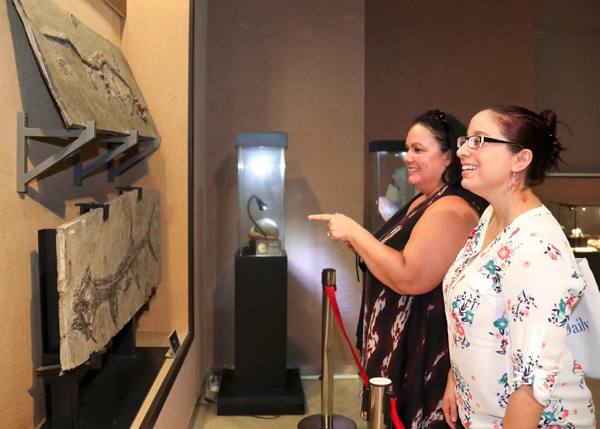 Expats appreciate the fossils at the stone culture park. [Photo by Mao Weijun/wndonline.cn]
In the afternoon, the expats went on a cultural discovery trip. They first visited a stone culture park, where they were amazed by the large collection of stones such as ores, crystals, and fossils.
They then visited the Hongshan Site Museum, an archeological relic site dating back more than 2,000 years ago. The expats were impressed by its most precious antique, the Jade Phoenix, a jade phoenix-shaped object used as decoration in ancient times. Featuring elaborate and delicate carving skills, it reflects the outstanding craftsmanship of ancient China. With the shape resembling the letter "W", the initial letter in the word "Wuxi", it has become a symbol of Wu Culture and the logo of the city of Wuxi.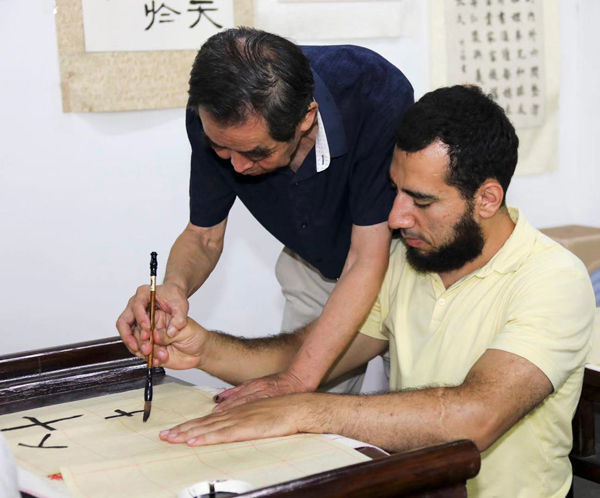 A teacher guides an expat through a calligraphy lesson. [Photo by Mao Weijun/wndonline.cn]
For their final stop, the expats took part in a calligraphy class. The teacher taught them how to write Chinese characters with a brush. Although it was not easy at the beginning, the group showed great interest and carefully followed the teacher's instructions. A number of them voiced the view that it was an excellent way for them to better understand Chinese culture.
The foreign participants were impressed by the beautiful scenery and profound culture of Hongshan. When discussing the whole tour, Darya Khan, a Pakistani student at Soochow University, said that it was a fantastic experience. Nidia Ann Nel from South Africa said that she will invite her friends to visit Hongshan next time and hopes to explore other places in Xinwu district in the future.