Chief technician uses his expert know-how to push Wechai Power forward
Wang Shujun, chief technician at the heavy truck and component maker Weichai Power, has become one of the major forces in supporting Weichai's effort to be a leading global company.
Wang, aged 45, started his career in Weichai as an equipment repairer and maintainer in 1994. He won the title of Shandong's chief technician and became a provincial-level model worker by using his expertise in technology over the past 25 years.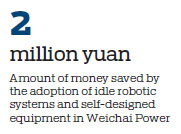 This year, he was awarded the title of "Craftsman of China 2018" for his outstanding contribution in supporting Weichai's upgrade and transformation. The presitation was hosted by China Media Group, a broadcasting platform made up of China Central Television, China National Radio and China Radio International in 2018 and the All-China Federation of Trade Unions.
Wang and his team members have a reputation for their innovative spirit.
In a production system upgrading project, Wang and his team had to integrate three systems developed by three companies into one platform.
By using some idle robotic systems and self-designed equipment, Wang found solutions that helped Weichai to save more than 2 million yuan ($299,236).
In 2013, Weichai established a chief technician workshop and an innovation platform, named Wang Shujun Model Worker Innovation Workshop. It aims to encourage staff members to suggest innovative ideas. Over the past few years, five production lines and 109 sets of automatic equipment were rolled out from those platforms. More than 230 innovation projects have been carried out since 2013.
"A solid foundation is the key to supporting a country's manufacturing industry to grow bigger and stronger. We are keen to be the steppingstones to help China to strengthen its development foundation," Wang said.
Led by Wang, the innovation workshop has become a hub for professional technicians training in Weichai. A great number of technicians in the workshop have won awards for their outstanding performance.
Currently, Weichai's chief technician work station is constituted by six branches. There are also seven model worker innovation workshops and 29 craftsman workshops. Those workshops, covering 10 working units in Weichai, have registered 148 patents, upgraded more than 470 sets of equipment and completed 456 innovation projects. They have helped Weichai to cut costs by 120 million yuan, according to the company.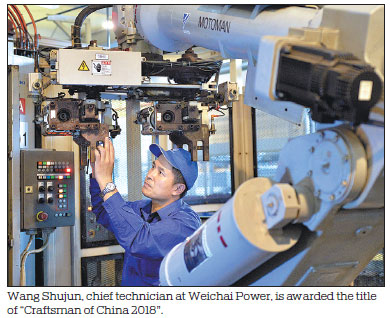 (China Daily 03/25/2019 page12)