Weichai scoops top prize for breakthrough in powertrain development
Weichai Power, the engine, transmission and axle developer and heavy vehicles, automobile electronics and parts maker in Weifang Hi-tech Industrial Development Zone, was awarded first prize at the 2018 National Science and Technology Progress Awards for its breakthroughs in commercial vehicle powertrain development and applications.
The award, unveiled on Jan 8, is one of China's top prizes devised by the State Council in recognition of scientific contributions made by either groups or individuals.
Weichai was the only machinery business that scooped up such an award in China last year.
Tan Xuguang, chairman of Weichai Power, said the accolade recognized his group's continuous efforts in promoting innovation.
"Weichai Power used its industrial strength and shouldered its responsibilities to support the wider brand development of China's heavy-duty commercial vehicles," Tan said.
According to the company, over the past decade Weichai has focused in particular on developing powertrains for commercial vehicles and their applications.
Its newly developed powertrain comprises Weichai's engine, Shaanxi Fast Gear's transmission and Shaanxi Hande Axle's products. Experts said Weichai's powertrain has made breakthroughs in power output, emissions control, system reliability and professional development and production.
Weichai set out on the path to the development of independent technology many years ago, after launching a project supported by Austria's Steyr Motors.
In 2005, Weichai made its first acquisition by purchasing Zhuzhou Torch Spark Plug Co in Hunan province. The deal allowed Weichai to obtain a controlling stake in Shaanxi Fast Gear, Shaanxi Heavy-duty Motor Company and Hande Axle.
It then successfully developed an industrial chain that combined the development of engines, transmissions and axles under one roof. Weichai also built one of the first powertrain development centers in the world, according to the company.
Weichai revealed that it invested more than 15 billion yuan ($2.21 billion) over the past 10 years to support engine development. Research programs were established in Weifang and Jinan in Shandong province, Xi'an in Shaanxi province, Shanghai, Chicago in the United States, Aachen in Germany and Tokyo in Japan.
It also partnered up with leading research institutes and companies including Tsinghua University, Stanford University and German group Bosch to beef up its development.
Weichai's efforts generated returns and it successfully transformed from being an engine developer into a powertrain developer.
During the development period of its new technology, Weichai also established and cultivated a professional research and development team and established four innovation platforms including a national internal combustion engine reliability laboratory and a commercial vehicle powertrain engineering technology research center.
Weichai's powertrain sales revenue totaled 91.2 billion yuan over the past three years. Its products are widely used by major truck producers and coach makers in China. According to Weichai, its achievements also allow Chinese heavy-duty commercial vehicle producers to occupy 99 percent of the market in China and successfully export to overseas markets.
On Jan 8, Weichai released its latest powertrain system, which it says represents the highest levels achieved in technology in the commercial vehicle powertrain sector.
The company also committed itself to continuously developing quality, reliable and competitive products for its clients in the future.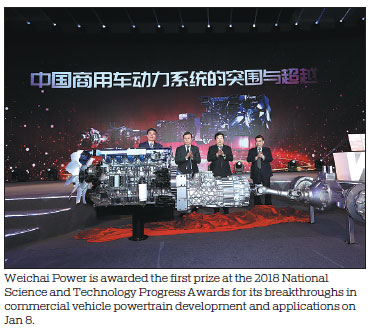 (China Daily 01/22/2019 page12)