Swimmers brave winter ice in Harbin
Freezing weather didn't cool the enthusiasm of a group of Harbin winter swimming enthusiasts; on the contrary, many were keen to brave the icy waters during an outdoor swimming event on Dec 23.
With temperatures hovering at -10 Celsius, crowds of swimmers took the plunge into the frozen Songhua River, watched on by enthusiastic crowds.
In recent years, swimming among the river's blocks of ice has become a popular winter activity, with the city increasingly becoming known as a winter tourism destination. It has even become an important part of the Harbin International Ice and Snow Festival.
And in January, the city will host the Harbin International Winter Swimming Invitational Tournament, giving winter swimming fans the opportunity to compete at a professional level.
In addition, from this month, members of the Harbin Staff Winter Swimming Team will take part in organized swims every day at Harbin Labor Union Port.
So far, 200 people have taken part in the swimming this year, said Zhang Jingfang, leader of the Harbin Staff Winter Swimming Team.
Visitors will be able to see people take the plunge every day between 9:30 am and 1:30 pm, with each session lasting around an hour.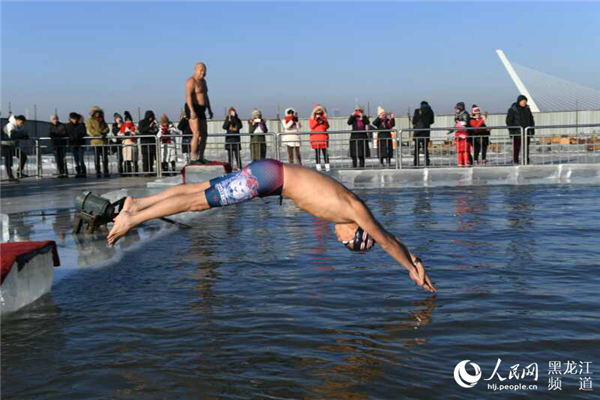 A winter swimming enthusiast takes the plunge into the icy Songhua River in Harbin, on Dec 23. [Photo/people.cn]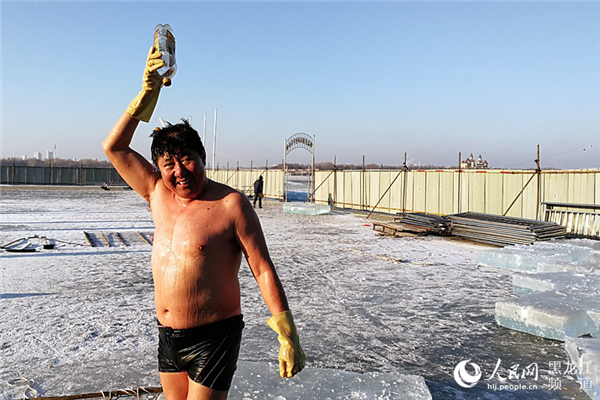 A man tips freezing-cold water over himself during a winter swimming activity in Harbin, Dec 23. [Photo/people.cn]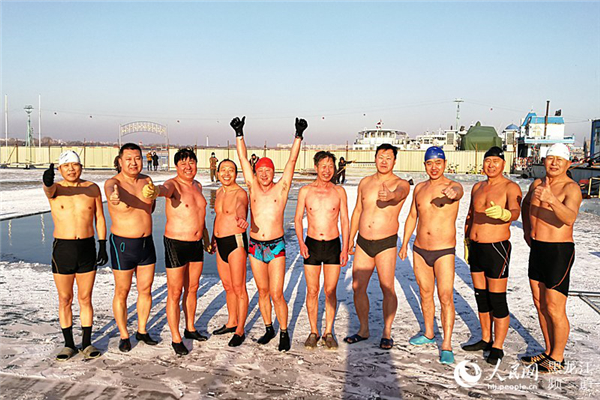 A group of male swimmers stands together for a photograph, Dec 23. [Photo/people.cn]