Red tourism revs up in Yan'an
"However difficult it is, we can always find a way out if we put our people in first place," said Xue Zhanhai, mayor of Yan'an, a city in Shaanxi province in Northwest China.
The mayor, born into a farmer's family in September, 1963, often encourages his colleagues and subordinates to work hard and contribute to the city's development with blunt and simple words.
Yan'an ranked at the bottom for eight consecutive years from 2009 to 2016. In the following year, under the lead of the mayor, it began to make progress in fiscal revenue growth, development of diversified business modes, agricultural modernization, and, in particular, its tourism industry.
The city was one of the key regions of the Chinese Communist Party's revolution. Xue said the revolutionary sites should be well preserved and the spirit of the CPC should be passed on.
According to Xue, there are 445 revolutionary sites in Yan'an, 168 in the urban area.
"Local government is now making efforts to protect the old revolutionary sites and to build the city into a 'Chinese Revolutionary Museum City'," he said.
Meanwhile, a main strategy is to add development of modern service industries such as tourism, education, culture and innovation to the city's commerce and trade.
In recent years, Yan'an invested 6.4 billion yuan ($918.71 million) in renovation of older urban areas and encouraged environmental renovation projects around historical sites, which helped China's "red tourism" (revolutionary-themed tourism) become an important part of its tourism industry.
In 2017, the number of visits to Yan'an was 50 million, and tourism revenue reached nearly 30 billion yuan.
From January to September this year, the city received 49,783,800 guests, with a total tourism income of 32.827 billion yuan, increases of 28.59% and 41.08% respectively compared to the same period last year.
To make full use of the tourism resources in the city the local government plans to build Yan'an into an all-region travel demonstration city.
Under the plan several new travelling themes such as Yellow River culture and the history of the Yellow Emperor were developed.
Classic operas and domestic and international sports events are also part of the plan to rev up local tourism development.
In 2017, Yan'an was selected as one of the "Top Ten Charming Cities in China" as well as one of the most influential.
The opening-up policy is also key to promoting local economic growth in Yan'an.
To date, 16 Top 500 enterprises including Huawei and China Datang Corporation have established programs in the city. Yan'an has established friendly relationships with 29 Chinese and global cities and signed 196 programs valued at 68.12 billion yuan at the Third Silk Road Exposition this year.
"Every Chinese should visit at least two places in his or her life -- one is Beijing, the capital of China, and the other is Yan'an, which carries the revolution spirit of the nation," Xue said.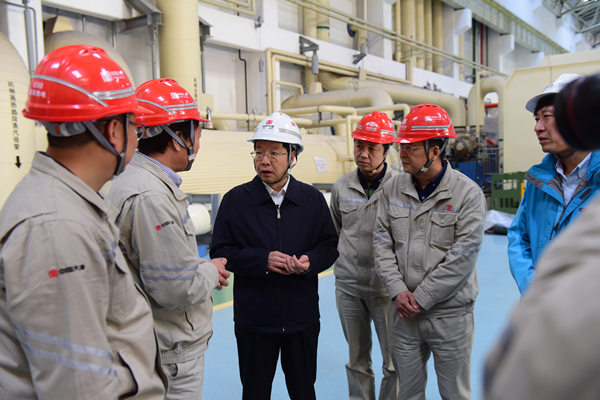 Xue (L3) visits the base of China Datang Corporation in Yan'an to inspect heating preparations for this winter. [Photo provided to chinadaily.com.cn]