First China-made rehabilitative robot to be put into clinical use
The Rehabilitative Robot Research Center was launched at Xijing Hospital in Xi'an, Shaanxi province on Sept 26, and is developing the first China-made lower limb rehabilitative robot.
The Center, also known as the Rehabilitation Big Data Research Center, is sponsored by Avicrobot, a high-tech company focusing on AI and service robot development, and the First Affiliated Hospital of Military Medical University.
It is intended to combine industry-university-research and military-civilian research and development.
According to He Chen, general manager of Avicrobot, the rehabilitative robot developed in the Center is the first of its kind in China and has completely independent intellectual property.
He explained that the robot integrates aviation technology with traditional rehabilitation procedures so that patients' health conditions can be monitored in real time and rehabilitation therapy can be improved.
In addition, patients can customize it thanks to 3D printing technology, which makes it easier for them to use it to sit, stand, and walk.
"The price of the robot will be 1/4—1/3 lower than those imported from foreign countries," He said.
The big data department will offer intelligent rehabilitation reports to patients based on collected robot data.
Hu Xu, physician in charge of the rehabilitation department of Xijing Hospital, said the lower limb robots will improve treatment efficiency as patients can complete the training by themselves after nurses help them customize the robots.
"The big data platform can also provide physicians more accurate data to make better therapy programs," Hu added.
According to Avicrobot, its manufacturing base in Xi'an will complete eight to ten lower limb rehabilitative robots per month over the rest of this year.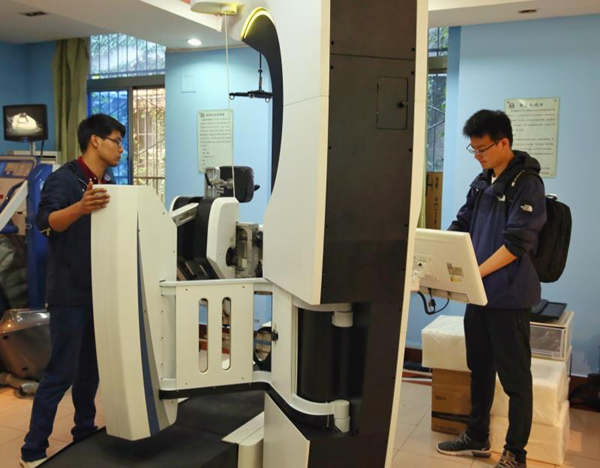 Researchers of the lower limb rehabilitative robots install and adjust the devices at Xijing Hospital on Sept 26. [Photo provided to chinadaily.com.cn]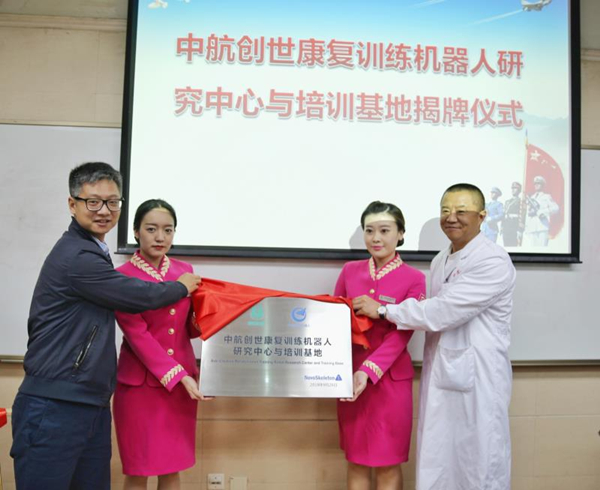 The Rehabilitative Robot Research Center, also known as the Rehabilitation Big Data Research Center, is launched at Xijing Hospital in Xi'an, Shaanxi province on Sept 26. [Photo provided to chinadaily.com.cn]