China, France to deepen cultural relations
The Third Sino-French Cultural Forum, intending to promote mutual understanding between China and France, opened on Sept 18 in Xi'an, Shaanxi province, with more than 500 representatives from all walks of life in both countries in attendance.
Launched in 2016 in Beijing, the forum is a platform to promote cultural exchanges and cooperation between China and France in various fields and promote dialogue and integration of world civilizations.
At the forum, Chen Zhu, president of the Chinese Overseas Students Association, said
learning from each other is a must for the development of civilization.
Different cultures of the East and the West were exchanged and cooperation occurred in regions along the ancient silk road, which promoted the integration of global civilization.
As the starting point of the ancient Silk Road and an important node involved in the Belt and Road Initiative, Xi'an plays an important role in spreading Chinese culture and developing international exchanges, Chen explained.
The Belt and Road Initiative is a pass-on of the cooperative and win-win spirit people used to have when they traded with people from other regions.
He also expressed his confidence that Sino-French cultural exchanges will lead to closer relations between China and other European countries.
Former French Prime Minister Jean Pierre Raffarin stressed the important role civilization integration plays in the stable and prosperous development of society.
Xi'an is both a historic and modern city, offering an integration of inheritance and innovation.
He said he hoped the forum would be a platform of sharing and a chance for people in China and France to learn more about each other, particularly in the aspect of culture.
Shaanxi province is one of the important cradles of the Chinese nation and Chinese civilization.
The local government is now making efforts in opening-up by building new economic modules to promote exchange and cooperation with other countries.
Hu Heping, secretary of the Shaanxi Provincial Party Committee, said more cooperation in commercial trade, education, tourism, technology and culture will be encouraged between China and France to deepen Sino-French relations, which would at the same time contribute to the maintenance of world civilization diversification.
The three-day forum will hold six main activities including the Sino-French Mayor Dialogue, eight parallel cultural sub-forums and nine cultural exhibitions such as the Dialogue Picture Exhibition between Daming Palace and Versailles.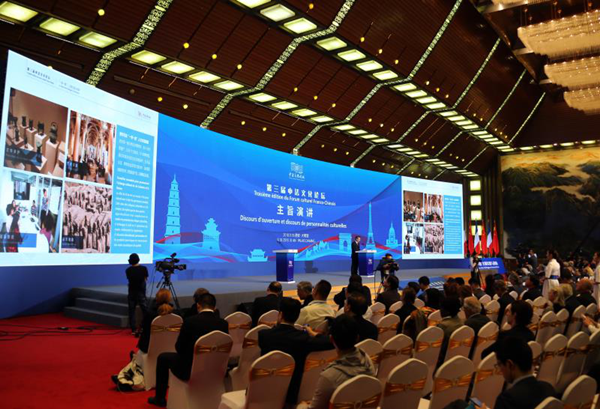 The Third Sino-French Cultural Forum opens on Sept 18 in Xi'an, capital of Shaanxi province. [Photo provided to chinadaily.com.cn]