Tongchuan to promote rural economic growth
A poverty-alleviation products fair, intended to promote local rural economic development, will be held from Sept 17 to 19 in Tongchuan, Shaanxi province.
According to Liu Xilin, deputy mayor of Tongchuan city, the Tongchuan 2018 Poverty-alleviation Products Fair will help improve the production and marketing of local products and attract investment to generate a sustainable and stable income for local families and promote agricultural economic growth in the area.
The fair will have five main sections -- the opening ceremony, an exhibition of poverty alleviation products, a signing ceremony recognizing investment in an agricultural cooperation project, a poverty alleviation art show and the closing ceremony.
The exhibition area, covering more than 10,000 sq m, will contain 180 booths displaying industrial poverty alleviation achievements, local agricultural products, e-commerce achievements, and farm food pertaining to Mid-autumn Festival.
Over a hundred agricultural production bases and enterprises in grains, fruits, animal husbandry, vegetables, Chinese herbal medicines, forest products, agricultural processing products, ceramics, and handicrafts will also attend the fair, Liu added.
At the Fair's press conference, Liu also announced that the first Harvest Festival of Chinese Farmers would open on Sept 23 in the city. The event will be a platform for local farmers to share their experience and to promote rural economic development.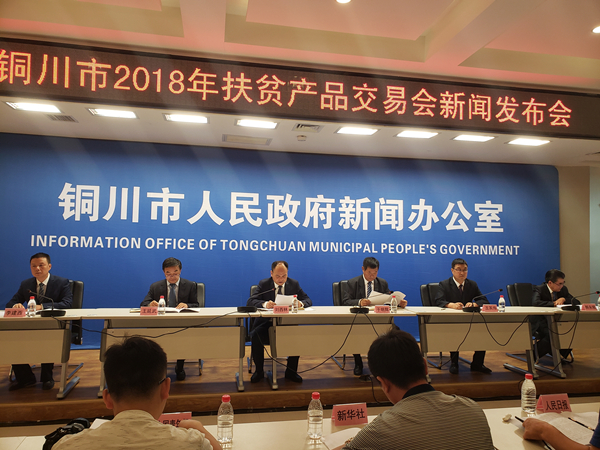 The Information Office of Tongchuan Municipal People's Government announces on Sept 11 that a poverty-alleviation products fair, intended to promote local rural economic development, will be held from Sept 17 to 19 in Tongchuan, Shaanxi province. [Photo provided to chinadaily.com.cn]