300,000 years of history at a glance
Anhui province is located in East China, with Hefei as the provincial capital. It adjoins Jiangsu and Zhejiang provinces in the east and Hubei and Henan provinces in the west. To the south lies Jiangxi province, and to the north, Shandong province. China's two major waterways - the Yangtze and Huaihe rivers - flow through Anhui and divide the province into three topographic forms: plain, hilly areas and mountainous regions. It is home to China's fifth-largest freshwater lake, Chaohu Lake, and is an important part of the Yangtze River Delta Economic Zone.
The province of Anhui as it is known today was established in 1667 by the Kangxi Emperor during the Qing Dynasty (1644-1911). The name of the province comes from the combination of the first characters of two prefectures' names at the time: Anqing and Huizhou.
Anhui is one of the important cradles of China's pre-historical civilization. Evidence of human activity in the region dating back to some 2.5 million years ago were found in Fanchang county and a site containing relics from the Paleolithic Age, between 300,000 and 400,000 years ago, was discovered in Hexian county.
The Xuejiagang cultural site, which was excavated in Qianshan county, indicating the presence of humans in the area between 5,000 and 6,000 years ago, is mostly comprised of remains from the Neolithic Age. It has important academic value for the research of primitive cultures in the middle and lower reaches of the Yangtze River.
The province covers an area of 140,100 square kilometers, accounting for about 1.45 percent of China's total land area. It has 16 prefecture-level cities, six county-level cities, 55 counties and 44 city districts. By the end of 2016, the province had a registered population of 70.27 million, of which about 61.96 million were permanent residents.
Anhui has valuable resources in light, heat and water and abundant flora and fauna. There are 104 nature reserves in the province, including eight national-level reserves and 30 provincial-level reserves. Endangered species found in the province include Chinese alligators and the white-flag dolphin. The Anhui Yangtze Alligator Reserve is the only artificial breeding base for Chinese alligators worldwide.
The province also boasts rich agricultural resources, at the forefront of the country in terms of output of grain, cotton and oil. It is a large tea producing province and also one of China's important production bases for pollution-free and organic farm products.
Anhui is home to a variety of mineral resources, with 128 kinds of minerals discovered there.
Anhui is home to 11 national 5A-level tourist attractions and 167 4A-level attractions. Famous tourist spots include Huangshan Mountain, Jiuhua Mountain, Hongcun village, Taohua Pool and the Hefei Wildlife Zoo. In 2016, the province received 522 million Chinese visitors, up 17.7 percent year-on-year.
haonan@chinadaily.com.cn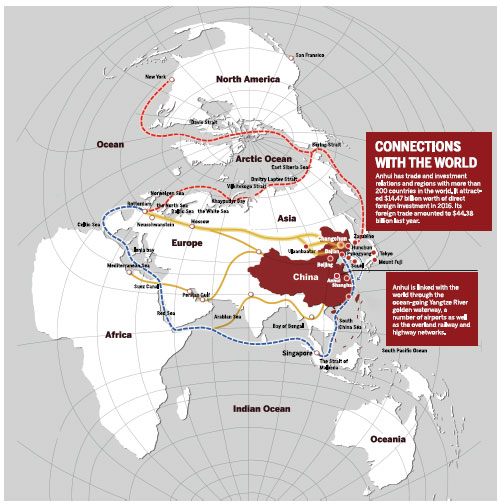 (China Daily 04/11/2017 page25)