Hungry Wuxi locals have been drawn to the aromas wafting from Wang Xing Ji for more than 100 years. Established in 1913, the restaurant oozes history. Diners wishing for an authentic Wuxi eating experience would be hard pushed to find a better place than this – with the tastes of the city seeping from its pores.
Specializing in local classics such as steamed soup dumplings (xiaolongbao), sweet sauced ribs (paigu), and delicate wontons (xiaohuntun), the time-honored eatery, lit up in its red and gold color scheme, is a culinary beacon for both locals and visitors from further afield.
And so it was, on a chilly December evening, that a gaggle of Wuxi expat workers came in from the cold for a demonstration and tasting session of an array of the restaurant's heady delights.
Assembled in a small banqueting hall on the second floor of the restaurant, Head Chef Li Zhenghua showed his cooking chops. Dressed in his chef whites complete with golden highlights symbolizing his position, Li demonstrated the fine techniques required to make the restaurant's steamed soup dumplings.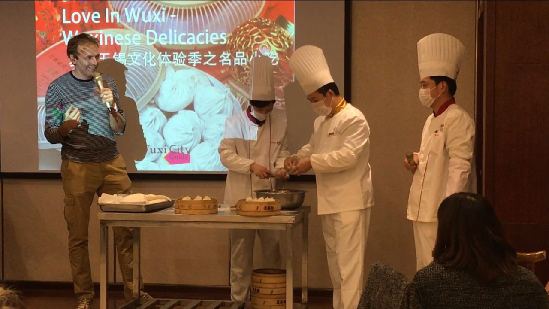 Wang Xing Ji Head Chef Li Zhenghua (R2) demonstrates how to make steamed soup dumplings. [Photo provided to China Daily]
"The dough should be rolled into small circles of differing thickness," said Li. The pork mince filling is added before a final mere 18 folds to enclose the meat and create a delicate dough orb ready for steaming.
"The 18 folds must look like an 18-pointed star," added Li, who has been kneading, folding and crimping in Wang Xing Ji's kitchens for 37 years. In his hands, the process of making steamed soup dumplings looked a doddle. It was not so easy for the several expats who proceeded to give it a try.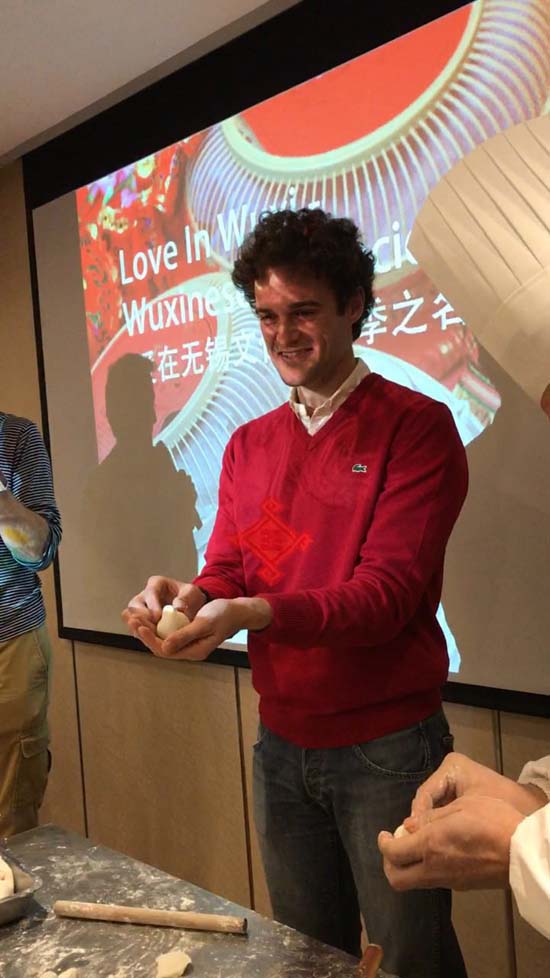 An enthusiastic Wuxi expat tries his hand at making a steamed soup dumpling. [Photo provided to China Daily]
Wang Xing Ji's Vice President, Shen Guoqing, said the restaurant's fame has traveled across borders with locations opened in Ebinashi, Japan and Los Angeles in the US. "The Wang Xing Ji brand is growing, we will open a restaurant in Singapore in the near future," said Shen. "So far this year, we have been through 30 tons of hairy crab, and 10 tons alone for our hairy crab meat steamed soup dumplings."
Shen said the restaurant is always looking forward, but it will never forget or lose touch with its past, one which included regular visits from one of Wuxi's most famous sons. "A'Bing even used to eat here after playing his erhu (a Chinese stringed instrument) in Chongan Temple – his house was right opposite," Shen said.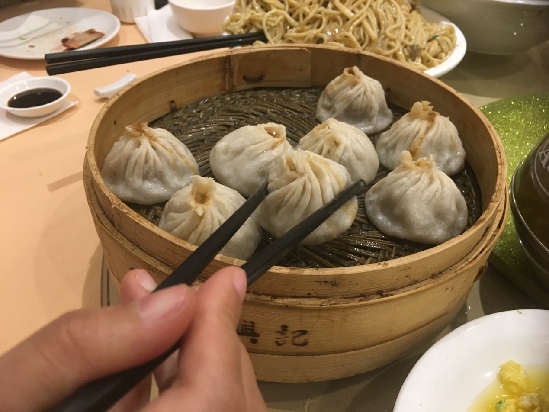 The final product, juicy steamed soup dumplings. [Photo provided to China Daily]
To top off the evening, the guests were treated to a feast of classic Wuxi dishes, including many steeped in local history, such as Taihu white fish, white shrimp and silver fish, also known as the three whites of Taihu Lake (Taihu sanbai).
The demonstration and tasting was held as a part of the "Love in Wuxi" series of events which are co-organized by the Wuxi government and expat news and events outlet Wuxi City Guide. The series is aimed at promoting the city's culture, history, and specialties to local expats.