Sunday morning visitors to BODA Modern shopping center would be forgiven for believing they had intruded upon an exceedingly excited smurf convention. The main atrium of the large, Italian-esque complex was teeming with a lively throng of bright blue rain jackets, some racing up escalators and others waiting patiently in line.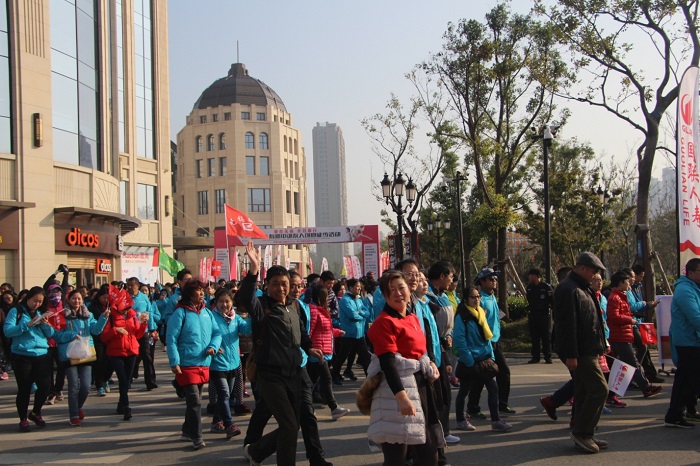 Joyful hikers set off in the morning for the Guolian Group Life Insurance City Hike, on Nov 27. [Photo/chinadaily.com.cn]
What the perplexed passersby were witnessing was the final stages of the Guolian Group Life Insurance City Hike that took place in southwest Wuxi on Nov 27.
If the branded jackets had been distributed in the fear of recent soppy weather dampening the mood of the 10km hikers, organizers must have delighted at the fresh and sunny day they woke to. The activity was part-hike and part-scavenger hunt with participants invited to collect a series of stamps in an activity booklet.
After a series of inspiring speeches, the hike set out from outside BODA Modern, one of the event sponsors, and traced a scenic loop past Changguan Park, along Lianze Road, and through the campus of Jiangnan University.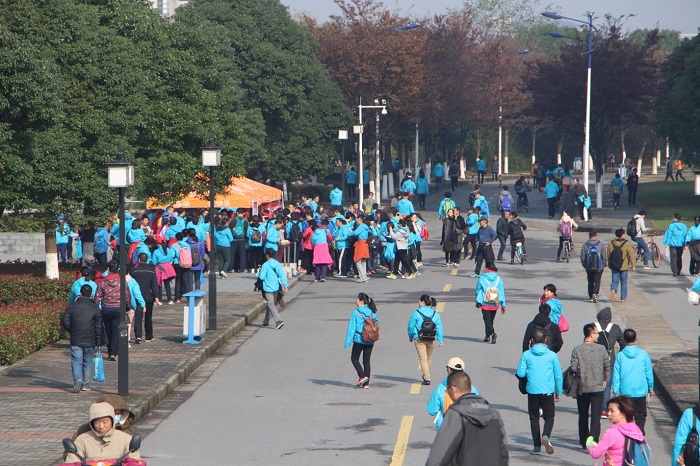 Walkers take a rest at Jiangnan University and check out some of the cool activities on offer. [Photo/chinadaily.com.cn]
The event culminated in a series of challenges hosted at BODA in which participants attempted to complete tasks to receive a stamp. Tasks included dice rolling, picking up balls using chopsticks, limbo, and an Angry Birds puzzle hosted by an onsite internet cafe.
One notable feature of the Love in Wuxi series event was the mixture of locals and foreign hikers, evidence of the strong promotional work by co-sponsor Wuxi City Guide, a news and classifieds website for Wuxi expats.
"I am local here and I came because my wife was invited, I think it is a really cool event and I support these kinds of things," said Gussy who was volunteering at the event.
Another hiker, Mushtaq, a textile engineering PhD student at Jiangnan University, thoroughly enjoyed the experience.
"I came with a lot of friends. It was a good sunny day, we enjoyed it a lot. The student organization told us about it and we are glad we came."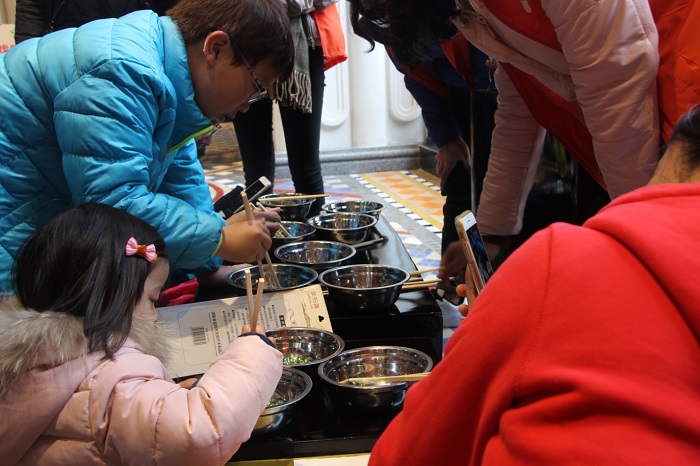 Children try to grasp marble balls from metal bowls using chopsticks. Successful participants receive a stamp in their hike booklet. [Photo/chinadaily.com.cn]
As a family friendly event, the hike offered something for everyone; adults enjoyed the chance to make new friends on the walk, children reveled in the fun activities held at MODA, and curious foreigners had the opportunity to pick up some local Wuxi dialect outside Jiangnan University Library. Given the success of the event, it wouldn't be a surprise to see similar events become a staple of the Wuxi calendar.