A new branch of the Buzhi bookstore brand run by Phoenix Publishing and Media Co and realty developer Landsea Group opened on Nov 5 at Taihu New City, a mixed-use urban development near the beautiful Taihu Lake in Wuxi, Jiangsu province.
The mayor of Wuxi, Wang Quan, visited the store on Nov 6. During his visit, Wang commented that he hoped the bookstore will enrich the cultural lives of Wuxi's residents and will encourage people to read more often.
The 1,000-square-meter store houses a collection of 20,000 books in literature, culture and arts, and history. Customers are encouraged to linger and enjoy a nice cup of coffee in the store's quiet, comfortable environment, complete with cozy sofas, green plants, and plenty of natural light streaming through floor-to-ceiling windows.
And as the store's name "Buzhi", a pun on the Chinese words for "no paper" and "not only", suggests, visitors to the site can expect more than just a bookstore. Buzhi also functions as a venue for cultural activities, including reading events, exhibitions, book launches and fans' meetings.
Opening hours:
The store operates normal opening hours Sunday to Thursday; but is opens 24 hours on Friday and Saturday.
Location:
Landsea Group's New City Center property, at the intersection of Gonghu Road and Tangtieqiao Road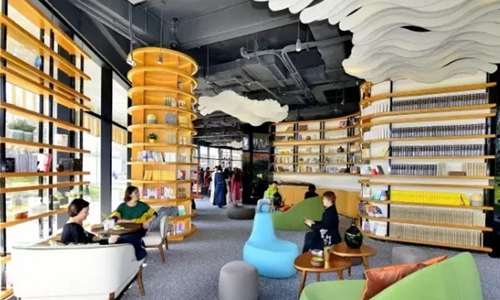 The artistic interior of the bookstore. [Photo/Wechat account of Binhu district]