Representing the first feudal dynasty in China, the surname Qin (秦) is very ancient and renowned. According to The Story of China, a documentary broadcast by BBC several months ago, western scholars consider the word "China" to originate from the Qin Dynasty (the pronunciation of Qin is similar to China).
The history of the surname Qin in Wuxi dates back over 900 years, to when the great writer Qin Guan (1049-1100) was buried in Wuxi's Huishan Mountain by his son, because he loved the landscape of the city so much in his lifetime. His offspring moved to Wuxi later, starting the history of the Qin name in Wuxi.
The Qins became a notable family, especially in the Ming and Qing Dynasties (1368-1912). They did exceptionally well in imperial examinations. Their peak came in 1739 when Qin Shi, Qin Yongjun and Qin Huitian achieved the top three results in the same imperial examination. People named a bridge in the downtown area of Wuxi "Sanfeng Bridge", meaning three phoenixes, to congratulate them on their good grades.
Another landmark related to the Qin family is the Jichang Garden. It was built by Qin Jin, a descendant of Qin Guan. He bought the dormitory of a monastery and renovated it. The garden was extended and repaired several times by the family. In the Qing Dynasty, Emperor Kangxi and Qianlong visited Jichang Garden a total of 14 times. Emperor Qianlong loved it so much. Not only did he write many poems for it, he also asked people to build a garden in the Summer Palace in Beijing with the same structure. The garden is still a popular tourist attraction in Wuxi.
The Qingming Bridge also got its name from the Qin family. Qin Taiqing and Qin Taining, two Qing Dynasty descendants of Qin Guan, once held a banquet to celebrate Qin Taiqing's 80th birthday. They received all the gifts given by the neighborhood, which was strange because usually they would only offer help for these neighbors but would never take anything from them. They then announced that they would build a bridge in south Wuxi and all the gifts would be counted in the construction funding. To complete the bridge, they used up all their savings. To express gratitude to the brothers, people took one character out of their names and named this unique stone bridge "Qingning Bridge", which was later changed into "Qingming Bridge".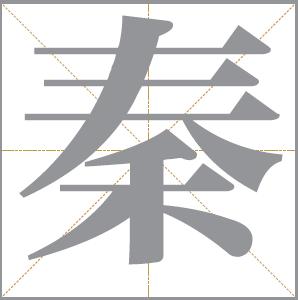 The character Qin (秦).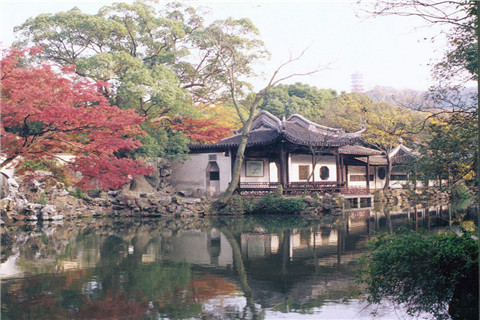 Wuxi Jichang Garden.