Wuxi's Nanchang Street ushered in this year's Mid-Autumn Festival in style with lively crowds gathering on Qingming Bridge to partake in the festivities, Sept 7.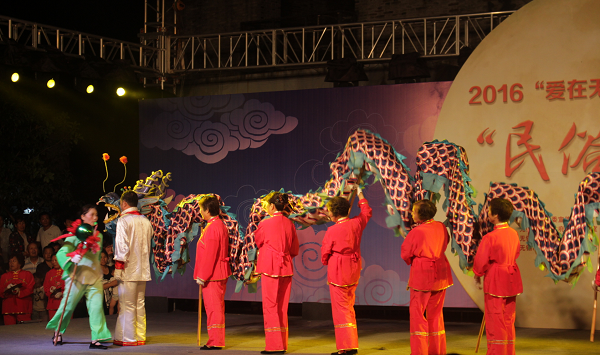 The Mid-Autumn Festival celebration starts with a traditional dragon dance performance. [Photo/chinadaily.com.cn]
First the city's storied Grand Canal was illuminated by a firework tour de force. Later the audience was awed to a hush by some delightful onstage performances representing a rich diversity of cultures. Over 50 locals performed a range traditional Jiangsu celebrations and a plethora of expats brought international pizazz to the area around Qingming Bridge.
Performances included a captivating African group dance, a well-received salsa display, and a Spanish-style bullfighting dance- minus the bull.
Greg and Rachel, a young couple from the United States currently living in Wuxi's Binhu district, said they were impressed by the enthusiasm of Wuxi residents and their continued appreciation for traditional Chinese culture. The couple danced in the YMCA performance and their son Larry also stunned the audience with some slick street dancing skills. The couple hoped that the Mid-Autumn Festival will bring prosperity and good fortune to both their family and the people of Wuxi.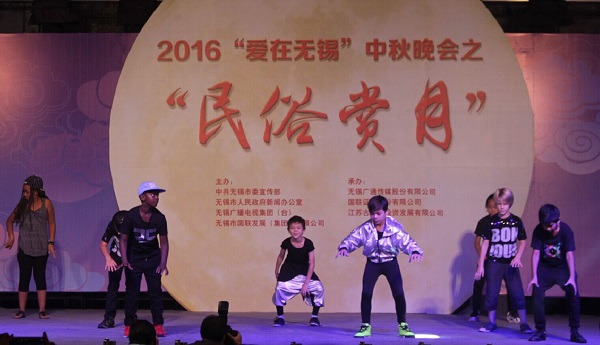 Talented kids get down to the beat with some slick street dance skills. [Photo/chinadaily.com.cn]
The event was organized by the information office and publicity department of Wuxi, the Wuxi Radio and Television Group, and the Guolian Group. The event bookended the Love in Wuxi series that began in August to showcase the city as a livable and charming place. This cultural event has seen thousands of locals and tourists gather on the banks of the Grand Canal to enjoy a nightly procession of specially curated barges designed to proudly display the city's 2,500 year history.
The Mid-Autumn Festival has been celebrated for thousands of years in China as a way of commemorating the harvest. The festival is held on the 15th day of the eighth lunar month- falling on Sept 15 this year. The moon is at its fullest and brightest on this date, two factors said to connote family unity. The festival was traditionally a chance for people to give offerings to Chang'e, the moon goddess.