Just before dusk, Ou Xiaoxiang poked his head out of a hatch on the roof of the 328-meter Suning Tower in Wuxi. Inside he was trembling with fear, yet the view, unadulterated, made it difficult to look away.
What drives a man to scale dizzying heights, risk his life and hang out above the city at all hours? The urge to capture a portrait of Wuxi city and show it as the ultramodern metropolis it is.
"Cities like Shanghai, Beijing, Shenzhen, New York and Tokyo have amazing photos to show their views," Ou said.
However, after scouring the internet for photos of his hometown of Wuxi, in East China's Jiangsu province, Ou noticed that they did not accurately represent Wuxi's skyline.
"Some architecture in the photos was no longer there, while some new buildings were not included. [They] didn't present Wuxi as a metropolis," he said.
A portrait photographer by trade, Ou has spent the last two years photographing the city as a hobby.
His photographs, 21 in total, is on display over the summer at Wuxi Canal Art Center, a hodgepodge of contemporary restaurants, coffee shops and galleries converted from an old machine factory. The factory was established in 1948 by the Rong family, famous for helping Wuxi cement its position as one of the first cities in China to adopt mass production.
The search for the ultimate vantage points of the city began two years ago, when Ou and his friend would study maps to find the correct building, spot and angle. The pair would then visit the prospective building to see if they could find a way up.
"The first picture we took was terrible," admitted Ou. It took him the best part of a year to find the perfect spots and perfect his photography techniques before he began making progress.
Despite having worked as a portrait photographer for around three years at that time, taking landscape photos on rooftops seemed unbearably boring and tough.
"Sometimes I had to stay at the rooftop for the whole night just to take a good photo of the city at sunrise," Ou said. "It's definitely not an interesting process."
Most of Ou's work is not just a single photograph. Instead, he decided to layer multiple images taken when light, air and weather conditions were just right.
Though tedious at times, Ou's endeavor gave him a fresh perspective on life and a respite from the hustle and bustle of city life. As much as the project has been an ambition for Ou, it's also an escape.
"When I'm on the ground, I'm just an ordinary person. However, when I get to the rooftop, I become calm and don't really care about small issues anymore," said Ou. "I look at the stream of people and cars on the road, with all the illuminations lit in the city, and would wonder why we existed.
"Nothing is a problem when I look at the city," he said.
With many of Ou's photographs being snapped up by buyers, he has accomplished what he set out to achieve two years ago - to capture the beauty of Wuxi's metropolis. Yet the budding cityscape photographer has no plans to shun his camera just yet. Having spent the last two years looking down, Ou plans to look to the skies.
"My next plan is to take a group of photos that combine Wuxi's landmarks with the Milky Way to make the photos dreamier."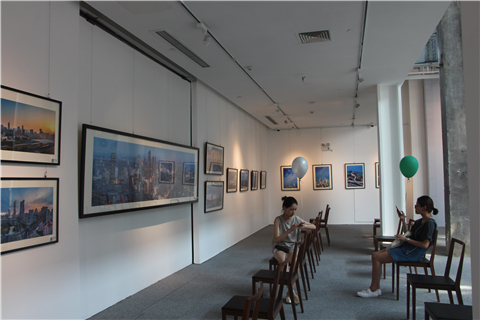 Ou Xiaoxiang's photos of Wuxi are on display at the Wuxi Canal Art Center. [Photo/chinadaily.com.cn]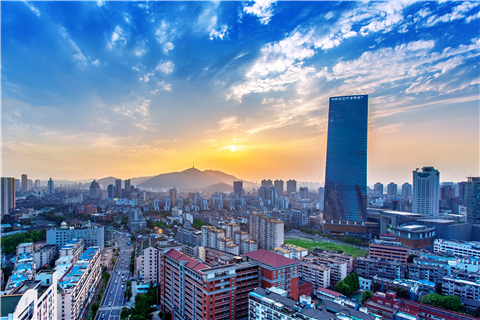 Wuxi's Huishan Mountain is photographed at sunset, with part of the city in the foreground. [Photo/chinadaily.com.cn]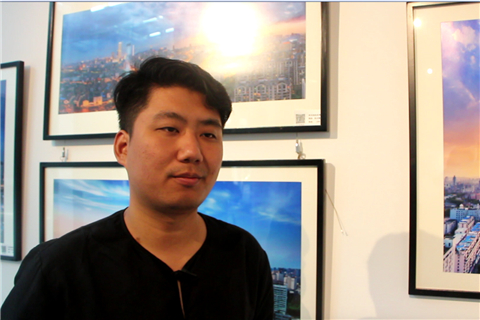 Ou Xiaoxiang introduces his photos at the exhibition. [Photo/chinadaily.com.cn]